How do you dance in heels without falling? Tips to dance better with Stiletto Shoes
Last Updated on November 28, 2023 by Clement
How Do You Dance in Heels Without Falling? Tips to dance better with Stiletto Shoes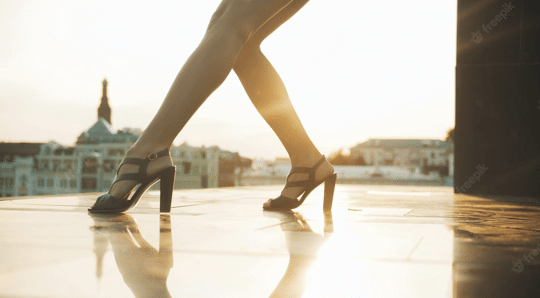 ‍
Image Source: FreeImages‍
In heels or Converse, dancing is a fun way to show off your personality and lose yourself in the beat. Maybe you're intimidated because you feel like you're not as graceful as others or perhaps it seems like everyone else has some secret technique that makes them appear to float above the floor in their dance heels.
Whether you prefer to twerk or take more traditional approaches, learning how to dance with heels can be challenging – but only if you let it be. We all learn things better when we have fun!
Keep reading for tips on how to dance in heels without falling and feeling silly. If you love going out and dancing, now is the time to indulge your passion even more. With a few insider tricks, anyone can learn how to dance in heels without falling .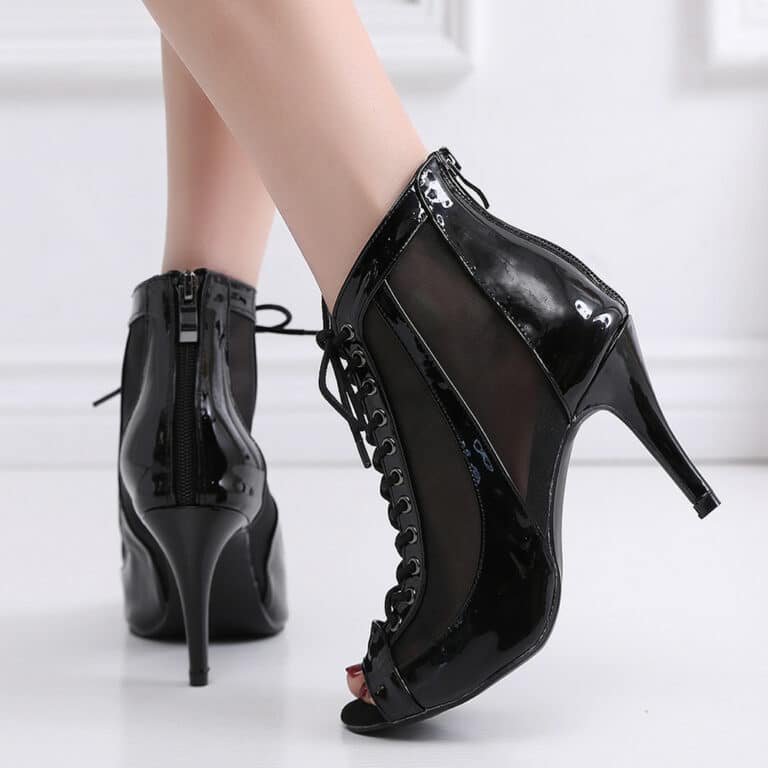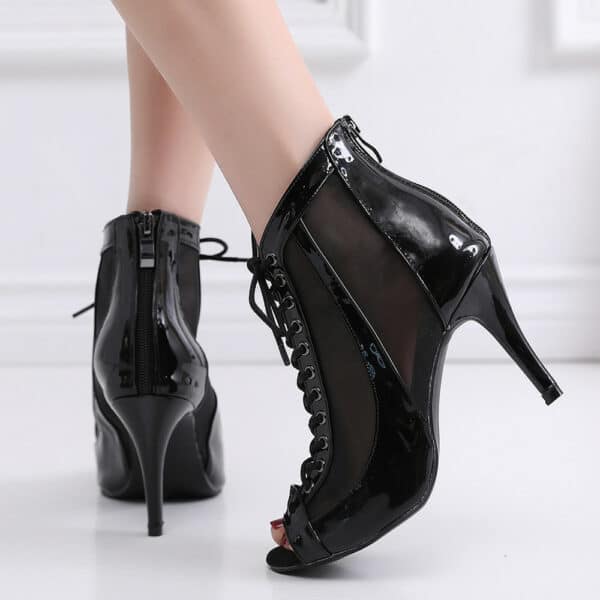 The Basics of Dancing in Heels
The best way to dance in heels is to dance in whatever shoe you feel most comfortable in. It all starts with the right fit – if your shoes are too tight, too loose, or not the right structure, you'll be fighting against your footwear the entire night.
Heels that are too high can throw off your center of gravity and throw you off balance – you don't want to fall face-first on the dance floor. The higher your heels, the more difficult it becomes to dance without feeling awkward.
The best way to dance in heels is to find a shoe that is comfortable, matches your outfit, and that you can dance in without feeling like your feet are going to fly off your legs.
Does this heels dance has a name and what is the history of dancing heels?
Heels dance or Stiletto dance is used too describe a man or woman dancing on high heels. It originated in late 20th and started to grow in popularity! People who dance heels dance have a background in commercial dance, jazz and ballet. Most recently, it grew in popularity and everyone love a heels dance class. It allow women to feel sensual and reconnecting within themselves while being in a safe environment!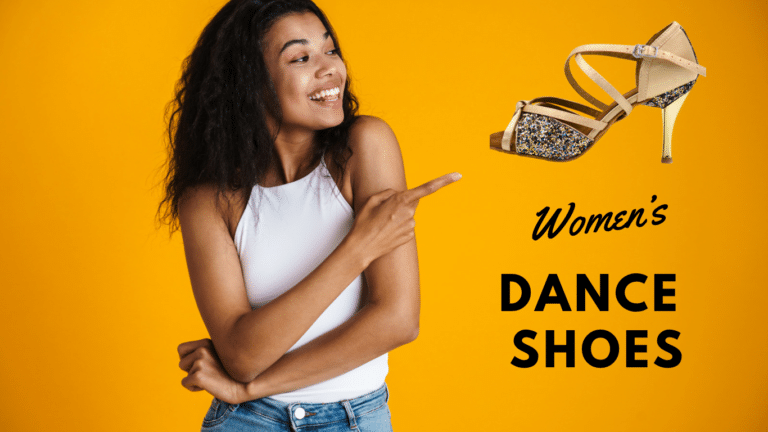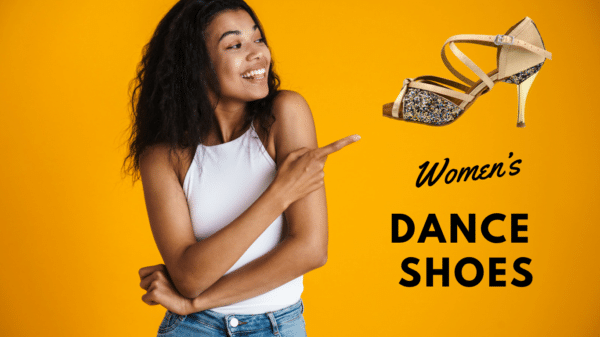 Find a Good Shoe Fit
First things first: find a dance shoe that fits your foot well.
This might sound obvious, but you'd be surprised at how many people find a shoe that looks amazing but fits horribly.
A poor fit will cause discomfort, which can lead to injury and bad dancing. No one wants that! Lucky for you, we do sell the best dance shoes in Australia and we are confident that our shoes will be the perfect fit for you! but this is not enough. We also recommend you to try on several different styles of heels and walk around in them as if you were at a club. You can even practice your dance moves once you've found a pair you like. Make sure the heel isn't too high; five inches is typically the max. Heels higher than this can throw off your balance and leave you feeling unstable. Good news is that you are on the perfect website for your dance shoes. We have been rated the best dance shoes in Australia !
Read our dancer heel guide to find the best pair of dance heels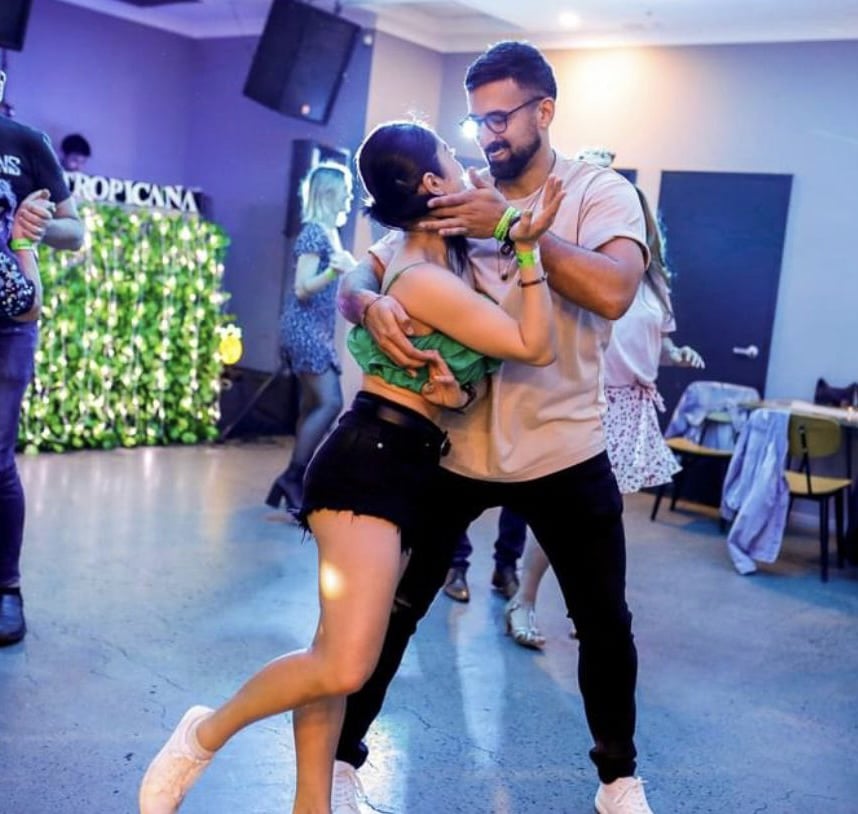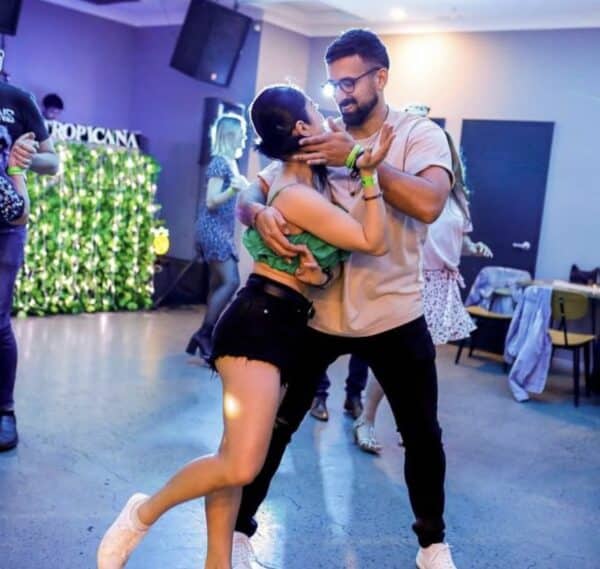 Use the Right Technique
When it comes to how to dance in heels, the right technique can be the difference between kicking ass and falling on your face. No one is perfect, but if you're trying to master how to dance in heels, you might want to check these tips out.
Make sure your weight is evenly distributed. This will help you keep your balance and prevent you from toppling over. Keep your knees bent and your feet planted firmly on the ground. This will give you more stability and allow you to move about more freely. Practice on a soft surface like a rug or carpet so you don't throw yourself off balance.
You can also use a yoga mat or exercise mat so you don't damage the flooring. Try to avoid hardwood and tile floors as they are slippery and can cause accidents.
Learn How to Turn and dance in Heels
The biggest challenge in learning how to dance in heels is balance. Once you feel comfortable standing in place, you can focus on turning. Turning in heels feels different for everyone, but there are a few tricks you can use to make it feel like second nature.
First, make sure your hands are free so you don't accidentally push someone out of the way. This is especially important if you're dancing with a group of people.
Next, turn on your toes rather than the heel of your foot. This will help you maintain your balance and won't throw off your entire footwork.
When you're ready to turn back, reverse the process.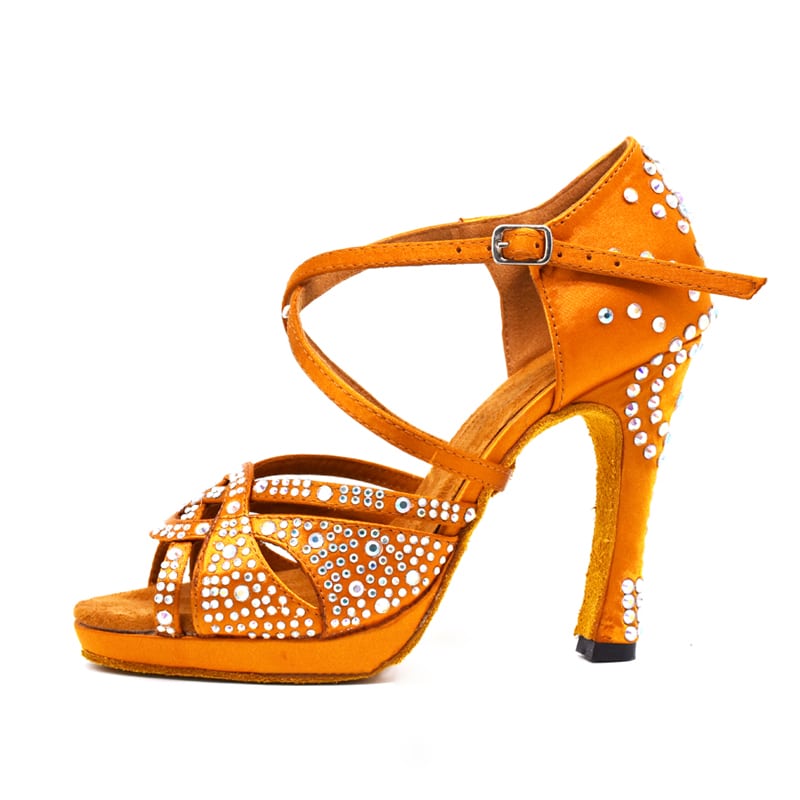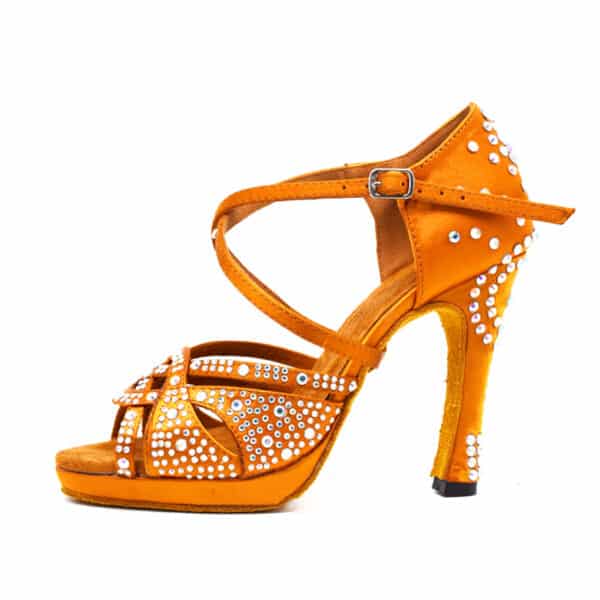 Bottom-Edged Heels for More Stability
Not all high heels are created equally (Good or bad things? 😛). If you find that the shoes you wear keep throwing you off balance, try switching to a pair of heels with a lower or less-angled platform. The higher the heel, the trickier it's going to be to maintain your balance.
If you're set on wearing high heels, look for ones with platforms. Platforms can also provide you with extra stability. Depending on the type of platform, you might find that the extra surface area makes them easier to dance in than a pair of stilettos.
Read about What shoes to wear for a salsa class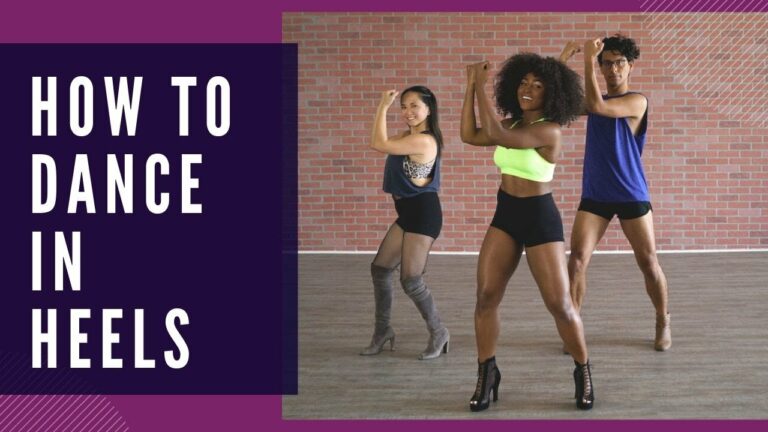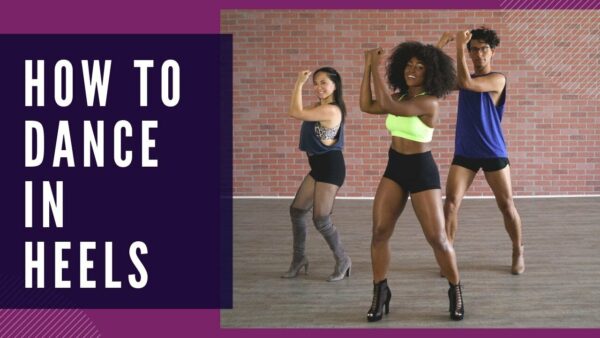 A Good Grip Means Solid Footwork
Our hands are what guide us through the dance. However, if you grip your partner too tight, you might throw off their flow.
Make sure you have a good grip, but don't squeeze too hard. This will put your partner off and can throw you off balance.
Keep your hands loose and make sure to use your arms and shoulders for support. You don't want to waste energy in your hands, so make sure you're using your whole body as you dance.
When you're dancing, try to keep your arms bent at a 90-degree angle and your hands open. This will help you avoid being too stiff while you're dancing.
If you're dancing with someone you don't know very well, keep your arms relaxed at your sides or behind your back.
Tips for dancers to not slip in heels
How do dancers stop loosing balance
Pull Your Hip Hinge Forward
Your hips are the foundation of your dance moves. If they're not stable, your whole dance will be thrown off.
Make sure you keep your hips pulled forward and your posture strong. Bending your low back and pulling your hips backward too much can look nice but it will throw off not only your dance, but also your balance.So the key idea here is don't exaggerate your posture!
This can also cause back discomfort and unnecessary pressure on surrounding muscles.
Try to keep a straight posture while dancing. Keep your knees slightly bent and your feet planted on the ground. This will help you keep your hips forward and allow you to move around easily. If you find you're bending too far forward, try practicing on a softer surface until you feel more comfortable in your heels.
What to wear for a heels dance class?
Our Recommendations:
You are a beginner and never dance in heels before
Do beginners wear stiletto heels for a dance class?
We encourage you to try our ballroom dance shoes. Low heels and flared heel shape. It will help you keeping your stability!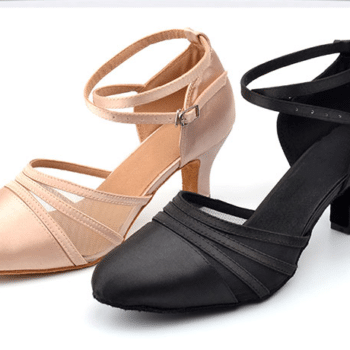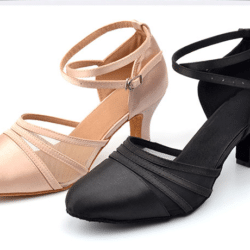 You are an intermediate latin dancer? Try any latin dance shoes
Latin Dance Shoes is usually 7cm height. We would recommend to start with some flared heels for extra support, before trying a straight stiletto heels!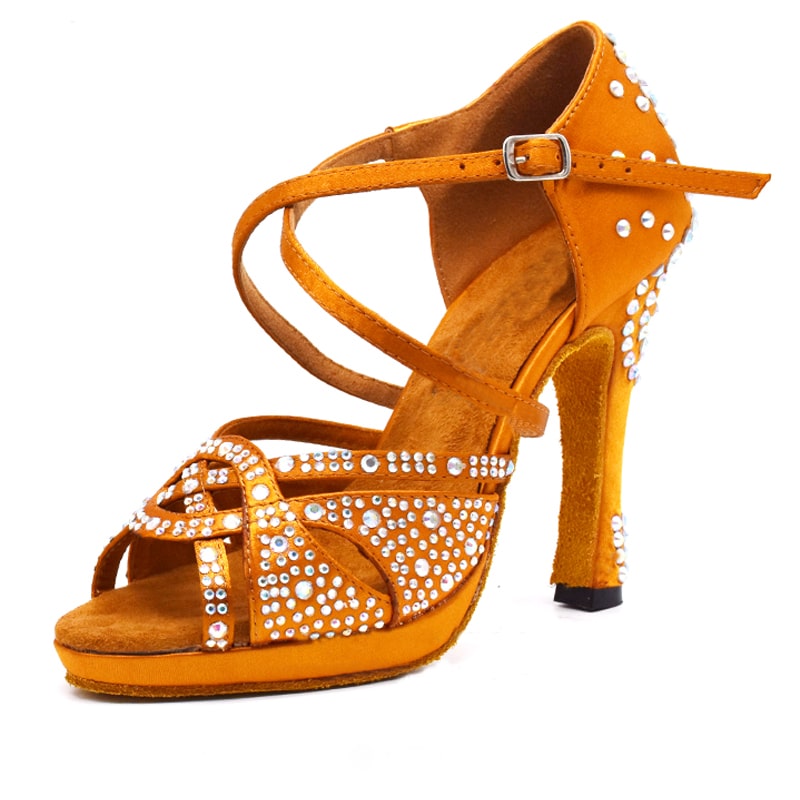 Finally, you are an advance dancer?
Try any high stiletto heels or heels dance boots. With less superficial on the floor, it will be harder for you to maintain your balance. However, they are stunning and you will be ready to show off on the dance floor!
Other related questions:
Can Dance Shoes be worn outside? | Latin dance Shoes Australia
Can Dance Shoes be resoled? | Latin dance Shoes
Are dance shoes supposed to be tight? | Latin Dance Shoes Australia
Ballroom Dance Shoes Australia
Summer vibe – Latin Dance Shoes Brisbane
Dance Shoes & Dance Wear Gold Coast
how to clean your Latin Dancing Shoes?
Are dance heels comfortable?
This is a difficult question to answer as comfort levels vary from person to person. Some people find dance heels to be comfortable, while others find them to be uncomfortable. If you are considering purchasing dance heels, we recommend your new heels to feel tight and supportive!

Can You dance in Stiletto?
Dancing in stilettos can be tricky, but it is definitely possible with a little practice. If you want to dance in stilettos, there are a few things you need to keep in mind. First, make sure you have the right shoes. Second, be aware of your balance and weight distribution. Third, take your time and be patient. With a little bit of practice, you'll be able to dance in stilettos like a pro in no time!
How  to dance in heels without pain?
Stretch first ! We often go social dancing and want to have fun! But dancing is hard for your muscle and legs. It is a sport like any other. So make sure to stretch before and after!
You can add a gel to cushion any shocks. Indeed, dancing is hard for your joints and bones. Make sure to order a good quality dance shoes that contain microfibre cushioning gels soles. You can alternatively purchase some at a chemist. But it might not fit perfectly your dance shoes.
Alternate your dance shoes. We always recommend to buy several pair of shoes. And alternate them. So your feet doesn't feel the pressure on the exact same spot for a repetitive amount of time.

How can professional singers and dancers dance confidently in heels?
Something that not many people can see: they Use ankle straps for stability!
They also practice a lot and use low heels height when they dance in heels.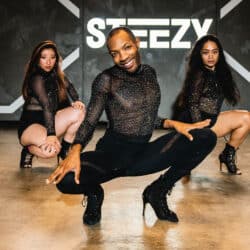 Is there any guys who dance with heels?
Absolutely! Many dancers love the challenge – and want to dance in heels! Some just feel more sassy and enjoy the feeling!
Why do dancers wear heels?
This is another common question. To make it short, it helps dancers to spin and turn better and faster. Most dance shoes are made of suede sole. The soft material help spinning faster while protecting dancers from the pain.
It is easier to dance in heels, once you start getting use to it and practice regularly! So keep the practice up, and dance in heel at home. The more you do it the easier it will get!
Where can I found dance workshop or heels classes?
It depends where you are in Australia!
On the Gold Coast, we recommend heels classes Gold Coast .
In Sydney, we would recommend Dance Fit Studio
Is there any YouTube heels tutorials?
Absolutely! You can also Head there: