Heels For Dancers (Guide & Dance Shoes Recommendations)
Quality dance heels are important for dancers. But sometimes it can be confusing to understand what are the different types of heels (we wrote a full article – read this one for more details explanation about the different heels types). In this article, we will go through the different types of heels for dancers, and give you many dancers tips on what heel height and shape to choose depending on your dance style and dance experience, as well as our dance heels recommendations associated. Hoping to help you find the perfect dance shoes for your needs.
Note: All our dance shoes and dance boots are customisable. You can pick any type of heels on all our dance shoes and dance boots and we will make them for you from scratch at no additional cost.
Note 2: If you are not a dancer and are just looking for regular shoes, we also customise the type of sole. Add a rubber sole for free and use your new heels for everyday use (work settings, formal events, socialising, etc), while enjoying a much more comfortable and supportive heels.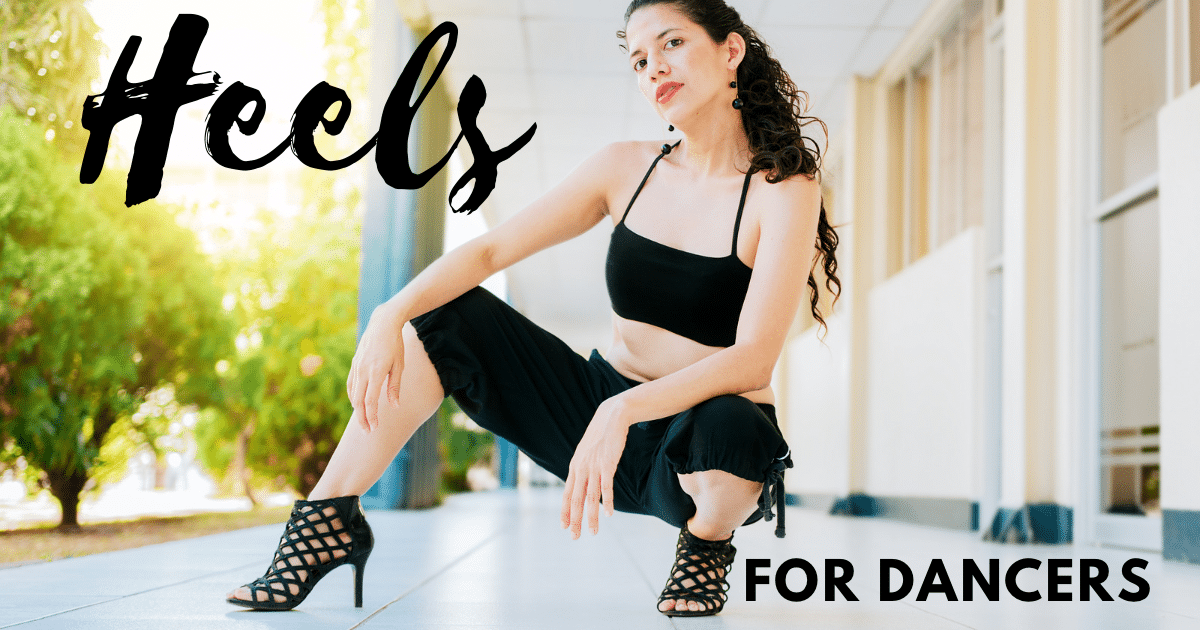 A block heel is a sturdy and stable type of heel with a chunky heel and a block shape. Block heels are perfect for stability with a chunkier heel in contact to the dance floor to ensure better stability.
Block heels shoes and low block heels shoes are recommend for beginners dancers and women that are not use walking in heels.
Low block heels are popular with ballroom dancers and Tango dancers.
Block Heels Type we recommend: 606# (3.5cm) – 016# (4.5cm)
Block heels are also called chunky heels, chunky heel, shoes with chunky heels, blocky heels, blocked heeled shoes or chunky-heel shoes. 
Who are Block heels for?
Beginners
Beginners Latin Dancers
Beginners Ballroom Dancers
Beginners Heels dancers
After over 15 years teaching and advising students on what shoes to wear for beginners, I believe block heels and cuban heels are the best to start with. And if you are confident walking in heels in general, you could try a 6 or 7cm flared heel shoes.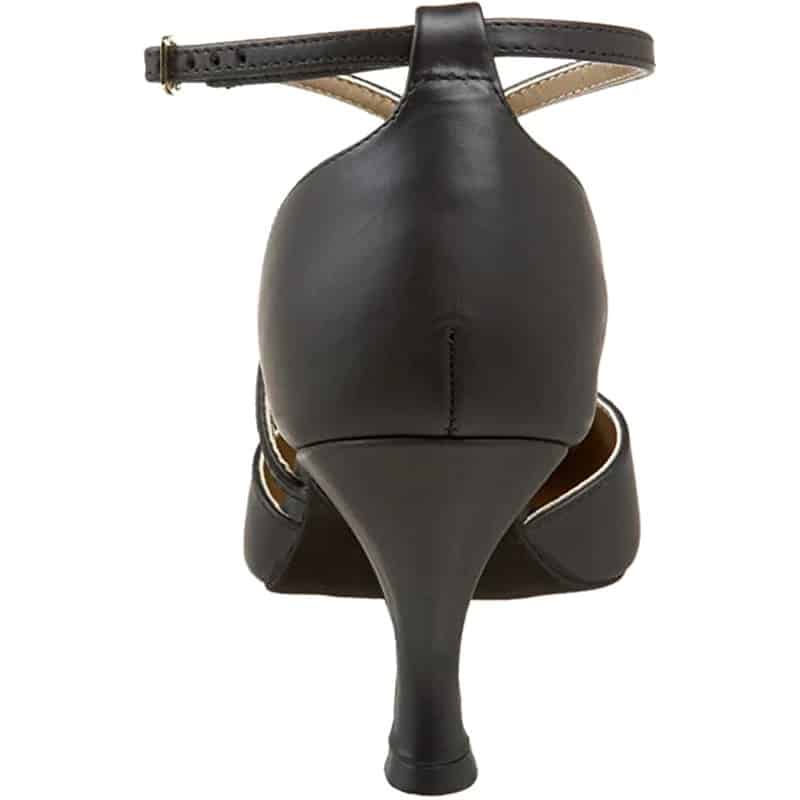 A flare heel is a stylish and distinctive heel that widens towards the bottom, offering a unique and eye-catching look, while offering more stability than a stiletto heel.
Flare heels are recommended for intermediate dancers or women that are confident walking everyday in heels.
Flared heels are perfect for salsa dancers or anyone who dance latin dances that are fast paced and requires style and stability.
Flared Heels Recommendations: 2899-1# (5cm) – 28993 (6cm) – 1995# (7cm) – 6812# (8cm)
There is different type of flared heel: Slim flare heels that are thiner than a regular flare heel, kitten Heels (flared heels measuring between 2,5 to 5 centimetres height) and regular flare heel.
Who are Flared Heel Shoes for?
Beginners that are confident walking in heels
Fast partner dance that require balance such as salsa
Intermediate Ballroom Dancers
Heels dancers that are looking for a compromise between a chunky heel to a high stiletto heel.
We recommend using a 7 centimetres Flared heels (heel 1995) to start your dance journey.
Stiletto heels are slender, thin and high heel, adding a touch of sophistication and allure to any dance outfit.
Stilettos heels are dance heels recommended for advance dancers, perfect for pole dancers, heels dance classes or slower partner dance such as Kizomba.
At Latin Dance Shoes Australia you can buy black stiletto heels, platform stiletto heels, gold stiletto heels, stiletto high heels and stiletto heel boots.
Stiletto heel Options: 141# (8cm) – 428# (8.5cm) – 99280# (10cm)
Who are Stiletto Heels Shoes for?
Intermediate to advanced dancers
Slow partner dance such as Kizomba, Zouk or bachata (but it does requires dance skills)
Advanced Tango Dancers
Heels dancers that are looking for a a sexy and elegant look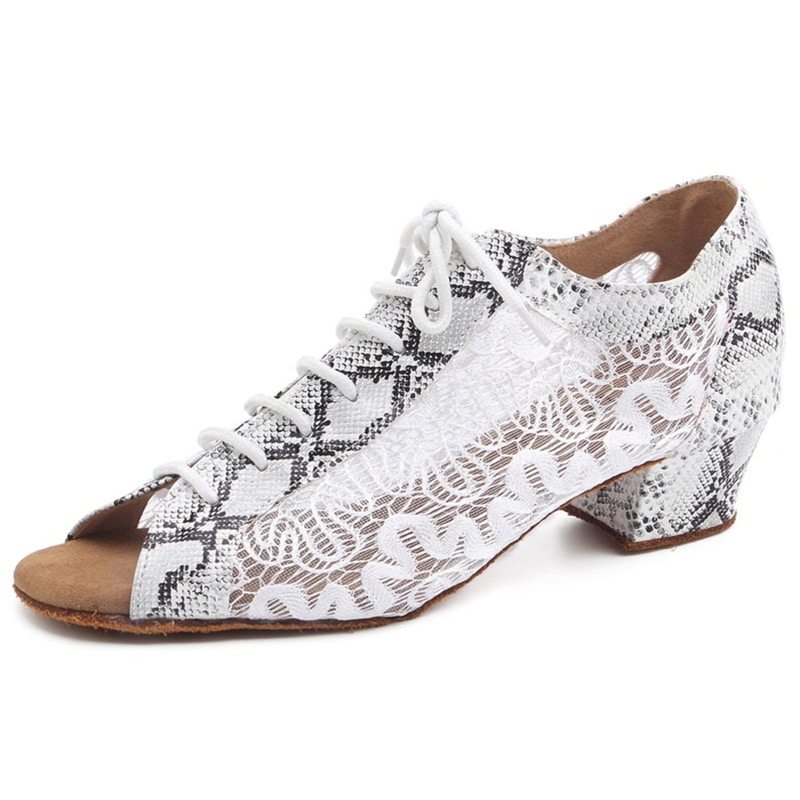 A Cuban heel is a slightly tapered, medium-height heel that provides both style and stability. Cuban heels are also perfect for stability with a chunkier heel in contact to the dance floor to ensure better stability.
Cuban heels shoes are also recommend for beginners dancers and women that are not use walking in heels.
A Cuban heel can be worn by both men and women. It is a versatile heel style that is commonly found in various types of footwear, including shoes for both genders.
Cuban Heels Shoes Womens
Womens cuban heels options: 48# (2.8cm) 
Mens Cuban Heels
Men's cuban heels options: 58# (3cm) – 56# (4cm)
Who are Cuban heels for?
Beginners men dancers
Beginners women Dancers
Beginners latin & Ballroom Dancers
Beginners Heels dancers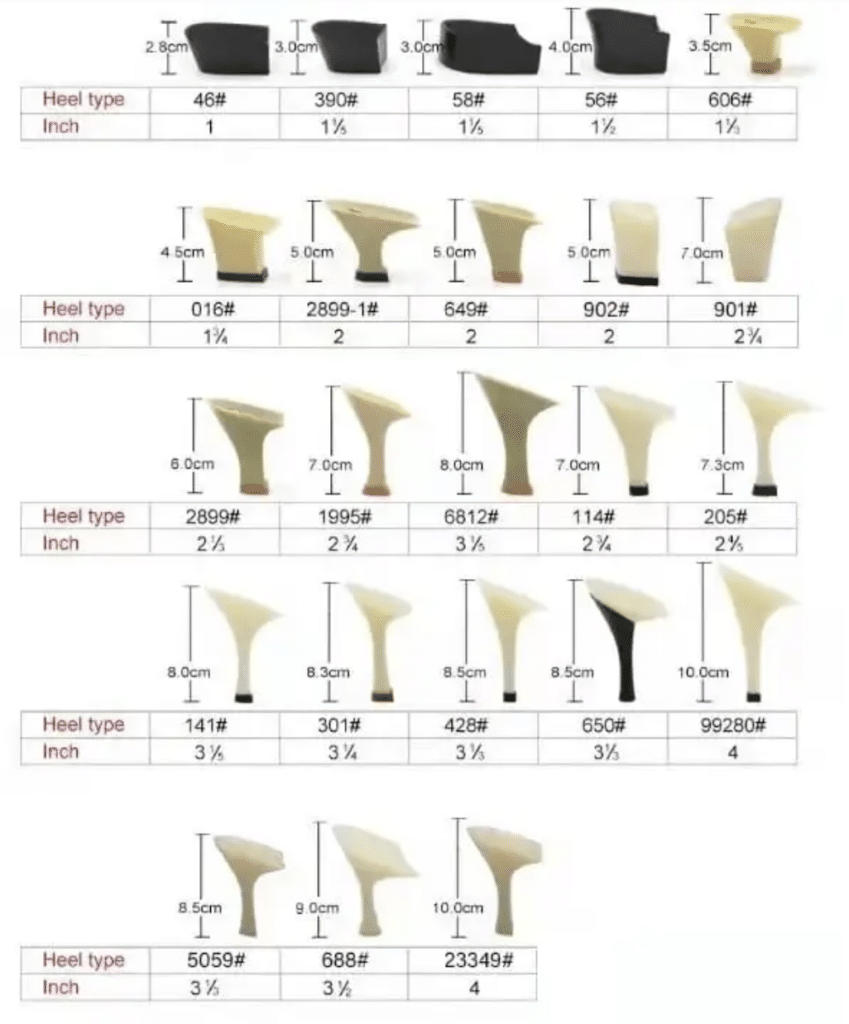 Heels for dancers Heel Height
Kitten heels (2.5 centimetres to 5 centimetres)
Low heels (2 centimetres to 6 centimetres)
Medium High heels (7 centimetres)
High heels (8 to 12 centimetres)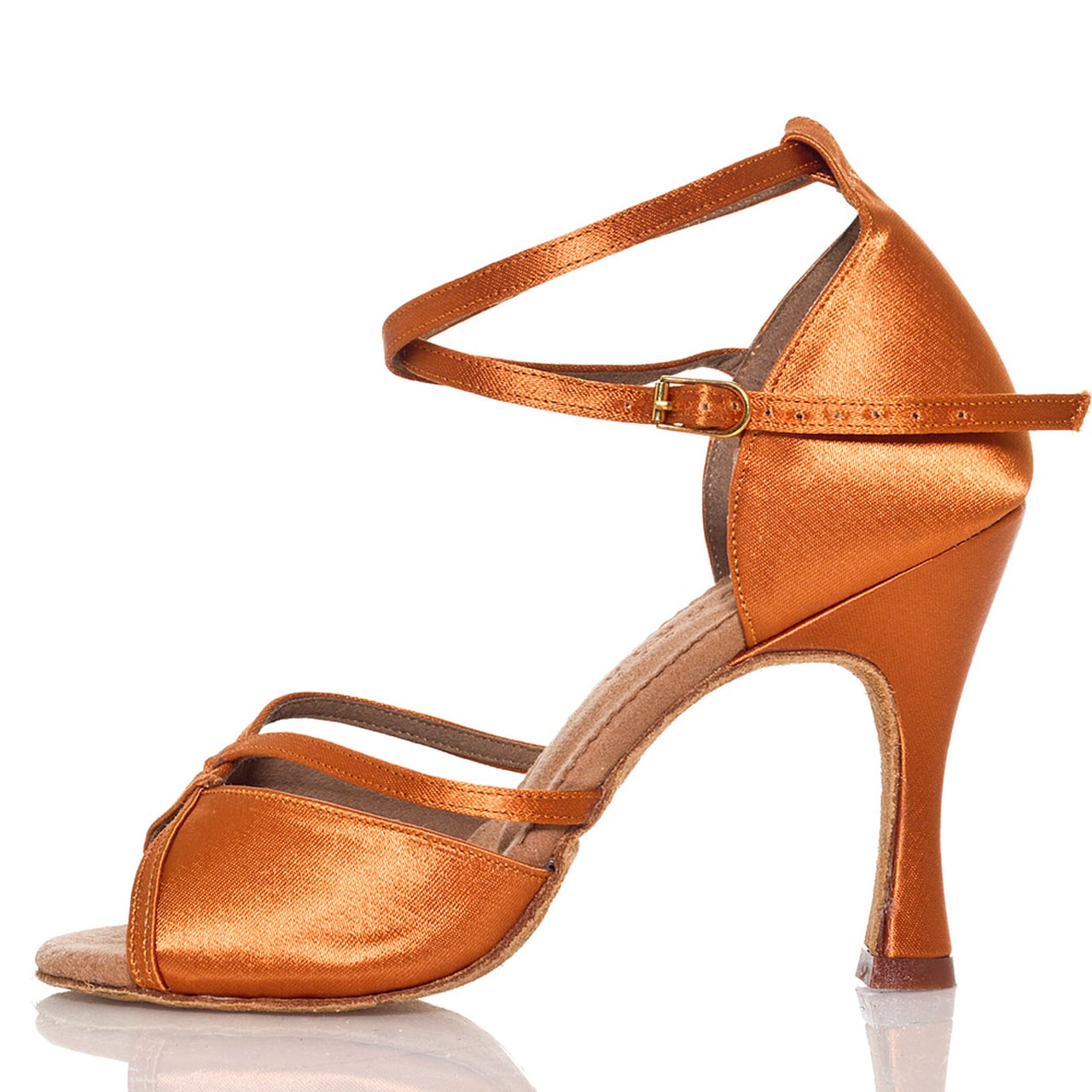 Heels with an elegant ankle support, making those heels for dancers trendy and elegant. 
Ankle Strap Heels come in different variations: ankle strap heels closed toe or ankle strap heels open toe. 
Ankle Strap is only a matter of personal preferences and look. Ankle Strap shoes look more elegant and classy than a bar heel shoes.
Shop our ankle Strap shoes and Strappy heel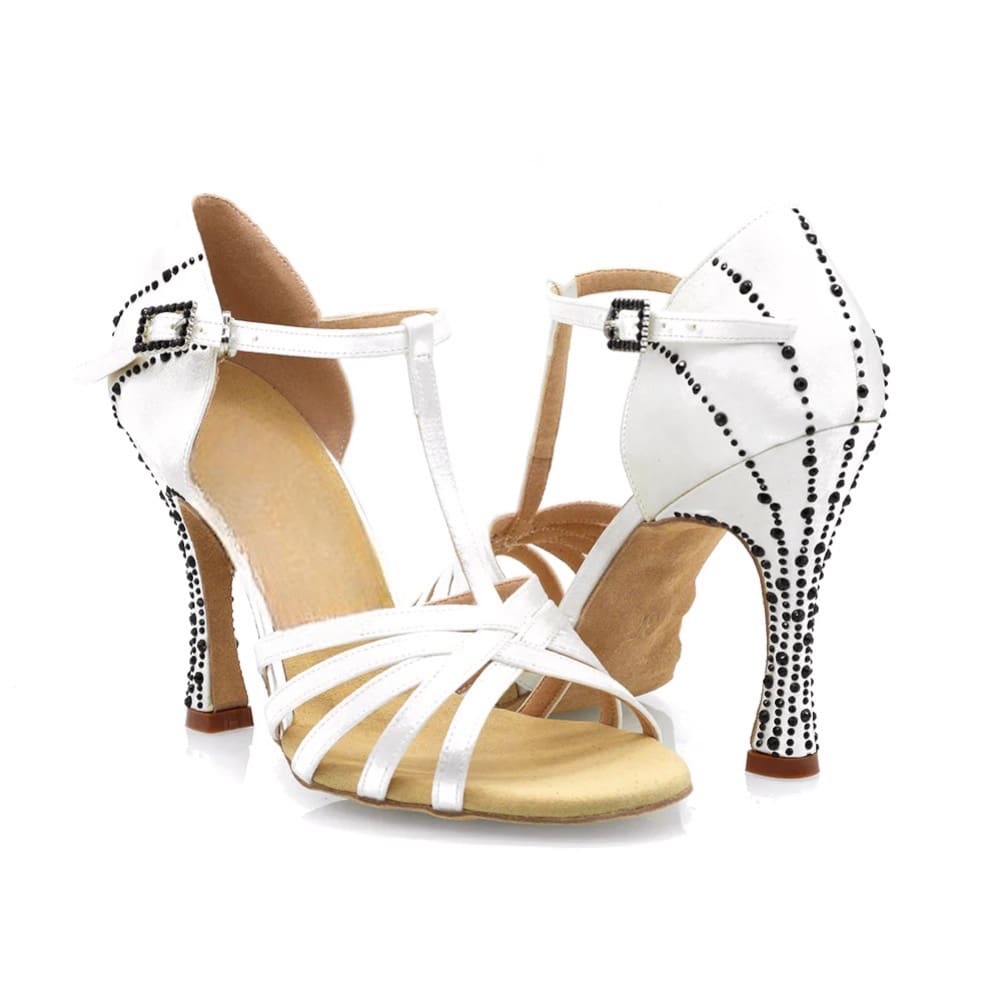 Shoes with a sturdy tbar support. Usually composed of a material coming up from the toes to the ankle wrap, forming a T shape.
Tbar shoes (also called t bar shoes and t-bar shoes) are a matter of personal preferences. They are as supportive as the ankle strap heels and are a great option to women looking for heels for dancers.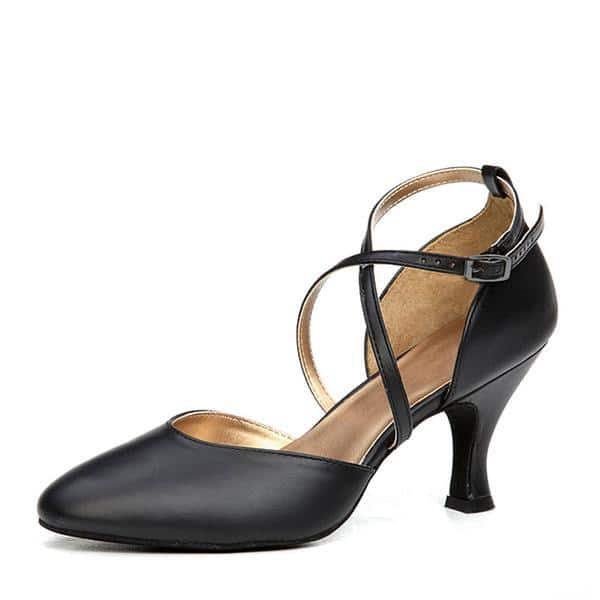 Closed toe heels are a toe-covered footwear option.
Very popular for ballroom dancing and highly seek after by ballroom dancers.
Who are closed toe heels for?
Beginners dancers that are scared to be stepped on
Older dancers and older person that want a more protective heel shoes.
Ballroom dancers that want a more traditional look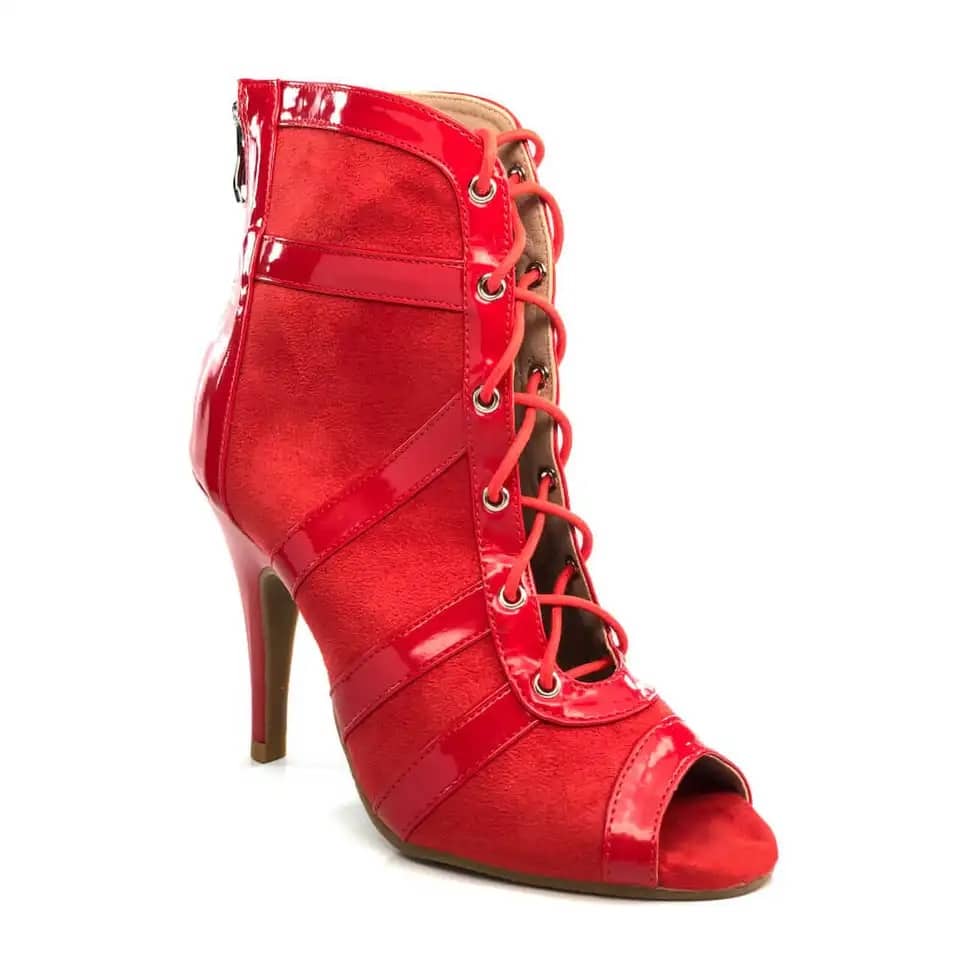 Open toe heels are Heels shoes with an open toe heel at the end. Open toe shoes are also called peep toe shoes.
There is many types of open toe heels.
Open toe bootie Heel
Open toe Platform Heels
Open Toe high heels
Open toe Low heels
Who are open toe heel shoes for?
Dancers that want a more fashion and trendy look.
Perfect for latin dancers, heels dancers and ballroom dancers
Shop all our dance shoes, heels for dancers and dance heels bellow.
Infographic Heels for Dancers

Infographic about the best heels for dancing and heels for dance type. Heels fro dancers type with recommendation bellow in the picture.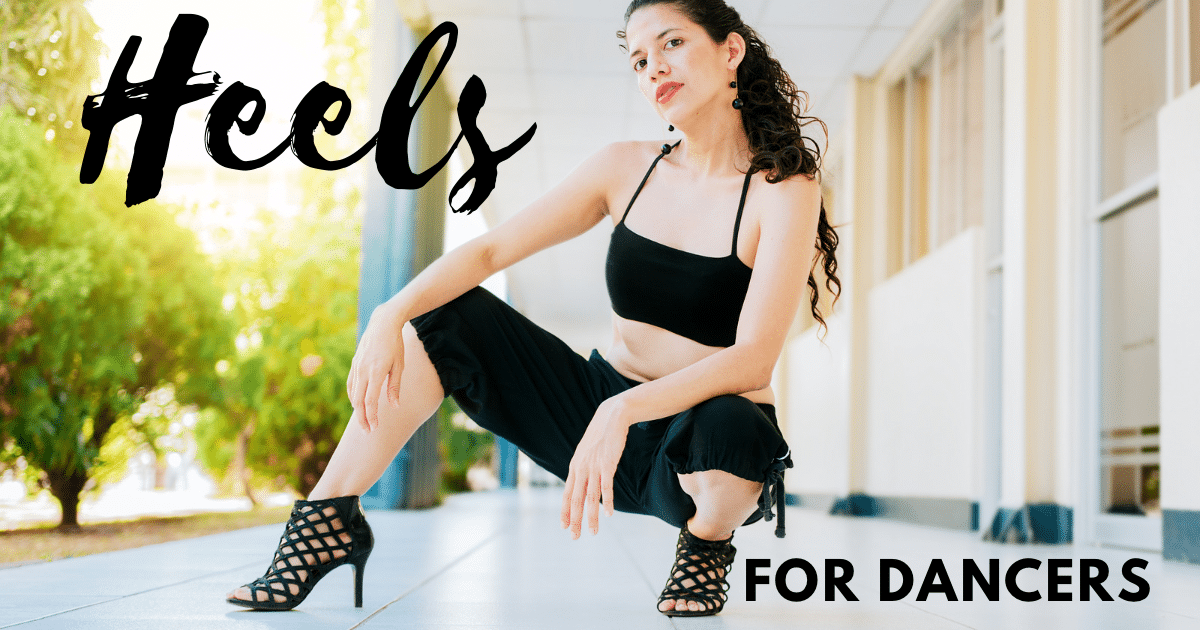 Thank you for reading our heels for dancers guide!
Related Articles to heels for dancers Guide