The perfect Dance Wear for every type of Dance | 10 Best dancing shoes for women
Last Updated on November 29, 2023 by Clement
The perfect Dance Wear for every type of Dance | 10 Best dancing shoes for women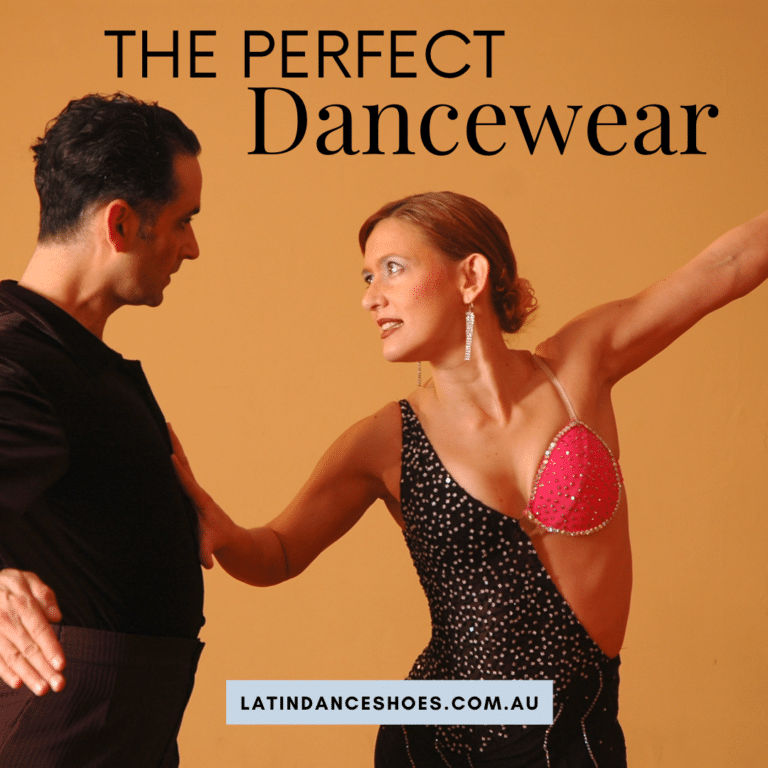 Welcome! In this article, we will visit the different type of dance wear- from world's leading dancewear brand to ours that specialised in Latin dance shoes and competition dancewear! Be prepared to deep dive into a variety of high-performance dance clothes – from ballet leotards to ballet tights to everything else! We will assess and go through the most popular dance types, before looking at the appropriate and expected dancing clothes! Are you ready to shimmy with us through different outfits, range, shop, colours, collections, accessorie and dancewear ? Let's go!
Perfect dance wear for every style of dance
A dance outfit is a wardrobe essential for any dancer. Whether you're a ballet dancer, contemporary dancer, jazz dancer, latin dancer or street dancers! The right dress can make all the difference in your performance and each style and environment has its own code.
Have you ever been to a party dressed up differently than everyone else? And felt uncomfortable with the feeling of being watch? Well, let's avoid this awkward feeling and go through each dance style! Knowing what to look for in a dance dress and leotard will help you find one that's not only comfortable but also stylish enough to wear onstage or in public.
 What is Dance Wear?
Dance wear also called dance apparel is the clothing worn by dancers while practicing or performing. It may include leotards (a type of tight fitting top), tight, leg warmers and dance shoes. Leotards are available in a wide variety of colors and styles, including sleeveless, short-sleeved, long-sleeved and even cut out designs that reveal a dancer's midriff. Tights come in both opaque and sheer varieties so that you can choose what level of support you want from them.
Type of dance wear
A good dance store will offer several different kinds of clothes for all types of dance including ballet, jazz, latin dancers and hip hop. Dance store often have an online presence too so if you're not near one locally then you can still purchase whatever it is that you need from them through their website!
What are the different names of dance wear?
There is 10 different way to talk about dance wear as a broader category and they are listed bellow.
1. Dance clothing
2. Dance attire
3. Dance garments
4. Dance outfits
5. Dance apparel
6. Dance costumes
7. Dance gear
8. Dance ensemble
9. Dance fashion
10. Dance wardrobe
These terms are commonly used to refer to clothing and outfits specifically designed for dancing. They encompass a wide range of items, including leotards, tights, leggings, dance tops, skirts, shorts, unitards, and other garments worn by dancers during practice, rehearsals, or performances.
It's worth noting that the specific terminology used may vary depending on the dance style or regional preferences.
What are some specific example of dance wear?
Here  is 10  more specific types or categories of dance clothing that are considered dance  wear.
1. Leotards
2. Tutus
3. Ballet skirts
4. Dance tights
5. Dance leggings
6. Dance unitards
7. Dance tops
8. Dance shorts
9. Dance pants
10. Dance dresses
These terms represent different styles and items of clothing that fall under the broader category of dancewear. Each has its own unique design and purpose, catering to specific dance styles, preferences, and performance needs.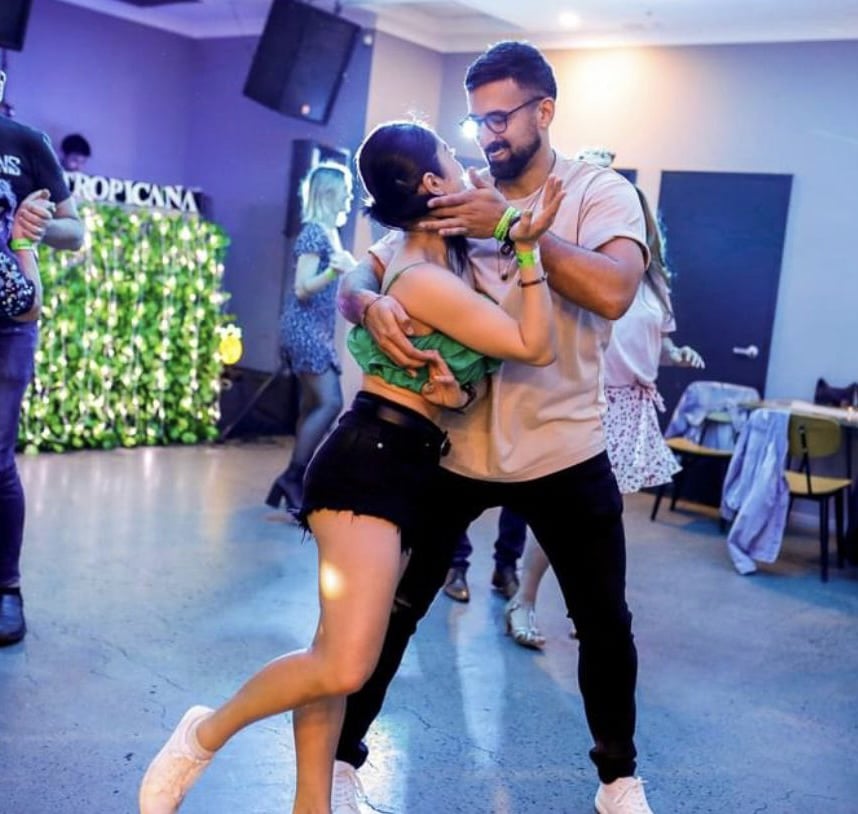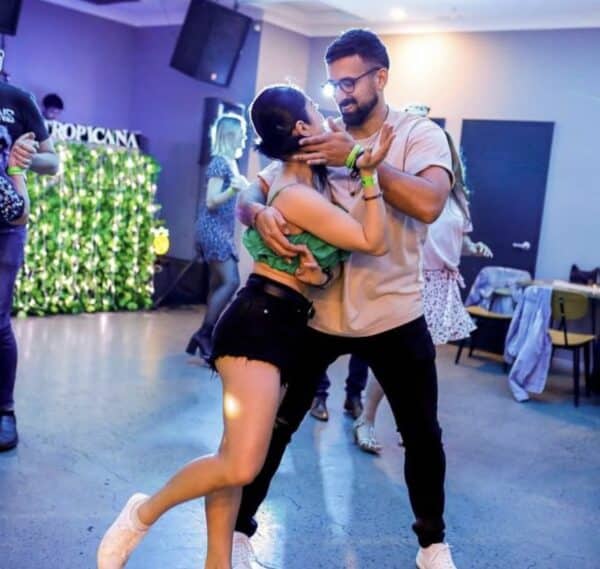 What are the different Styles of dance ?
There are many different types and styles of dance, but here are some:
ballroom dancing is a traditional form of dance that originated in Europe. It typically uses slow movements with intricate steps to classical music.
belly dancing is an ancient form of Middle Eastern and African dance that often involves elaborate acrobatic moves accompanied by music.
Latin dance and salsa dancing is a popular Latin American style of dance that features quick stepping and lively rhythms.
Swing dances are classic American dances that were developed in the late 1920s and early 1930s as a way to keep people entertained on long train rides. They involve simple step patterns combined with Turns, Shuffles, Jigs & Mores (rhythms).
Contemporary Dance is often known for its dynamic and athletic movements. It can involve ballet, jazz, modern, and contemporary dance.
Tap Dance is all about rhythm. You learn to time your foot taps to the music so that they rap or snap together realistically. This type of dance can be used for entertainment or training purposes.
Ballet is one of the oldest forms of classical dance, dating back several thousand years BCE (before common era). Its graceful movements are often accompanied by music played on instruments like keyboards or violins. Classical ballets generally feature intricate costumes and elaborate sets designed by scenic artists.
Hip hop is a Street dance style – extremely popular around the word with amazing competition and dancers!
9 Best Types of Dance Shoes for Women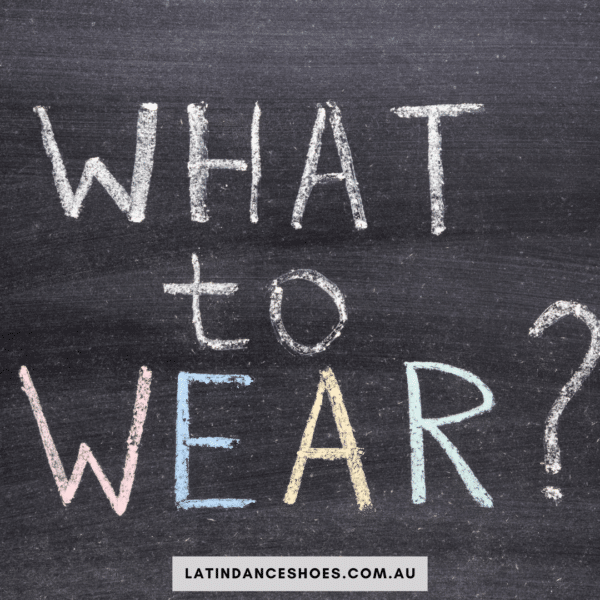 What to wear while dancing | Different type of dance attire and dance clothes depending on your dance style!
Dancing is an amazing way to release all of your energy and feel the beat. But it's not just about moving your body to the music – it's also about having the right clothing on depending on the dance style you are doing! Don't worry, we got you covered! Let's assess each women's dancewear and find the best dancewear solutions for your need!
And you know what the best part is? There's no need to spend a fortune on dancewear – you can find great deals on dancewear online. The type of dancewear you choose will depend on the type of dance you're planning to do. For instance, if you're planning to dance to funk music, you'll want to choose shoes with good traction and feel comfortable on your feet. Likewise, if you're attending a ballroom dance class, you'll want to dress in a floor-length gown. Do some research before purchasing to make sure the clothing is appropriate for the event you're attending and the type of dance you're going to be doing.
We made a little infographic for you so you can see everything at a glance. Alternatively, you can check down each points to see further explanation!
Best Line Dancing Shoes for your needs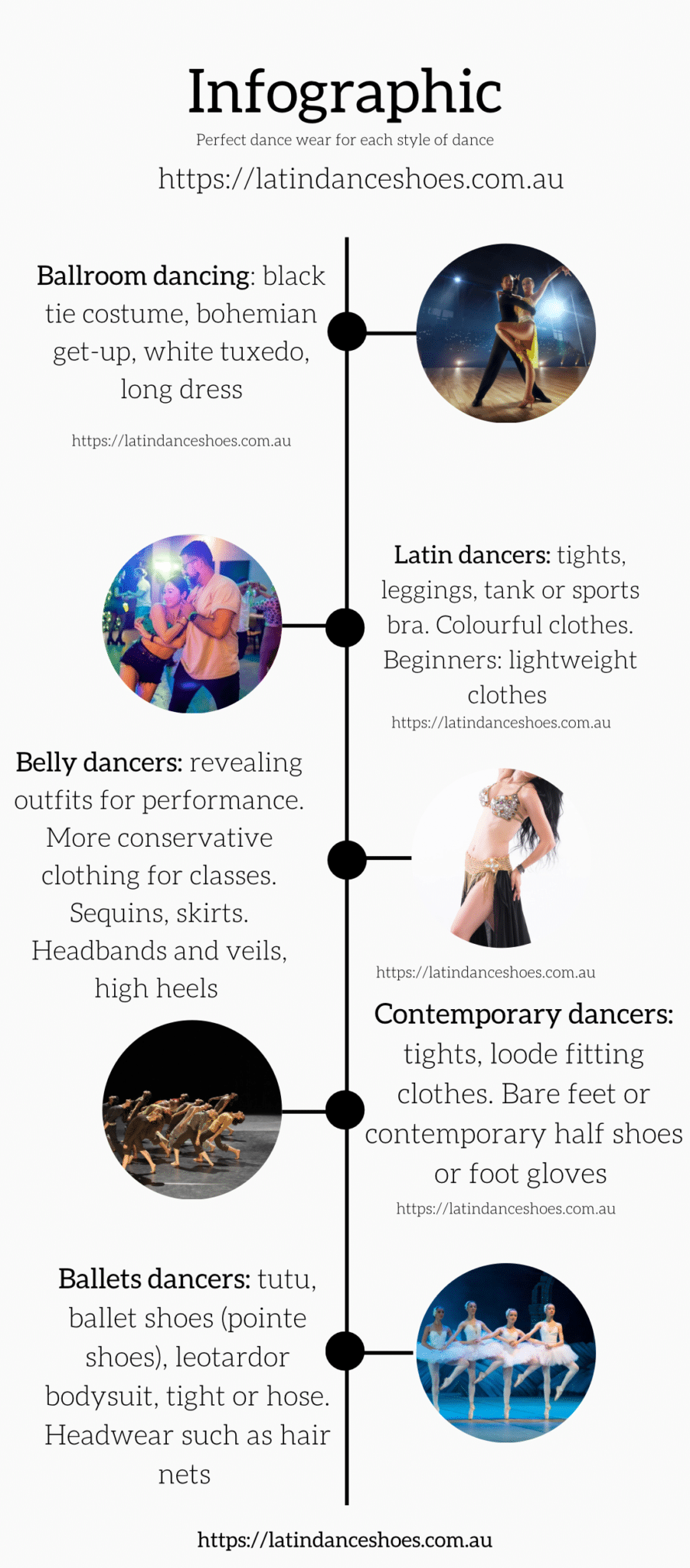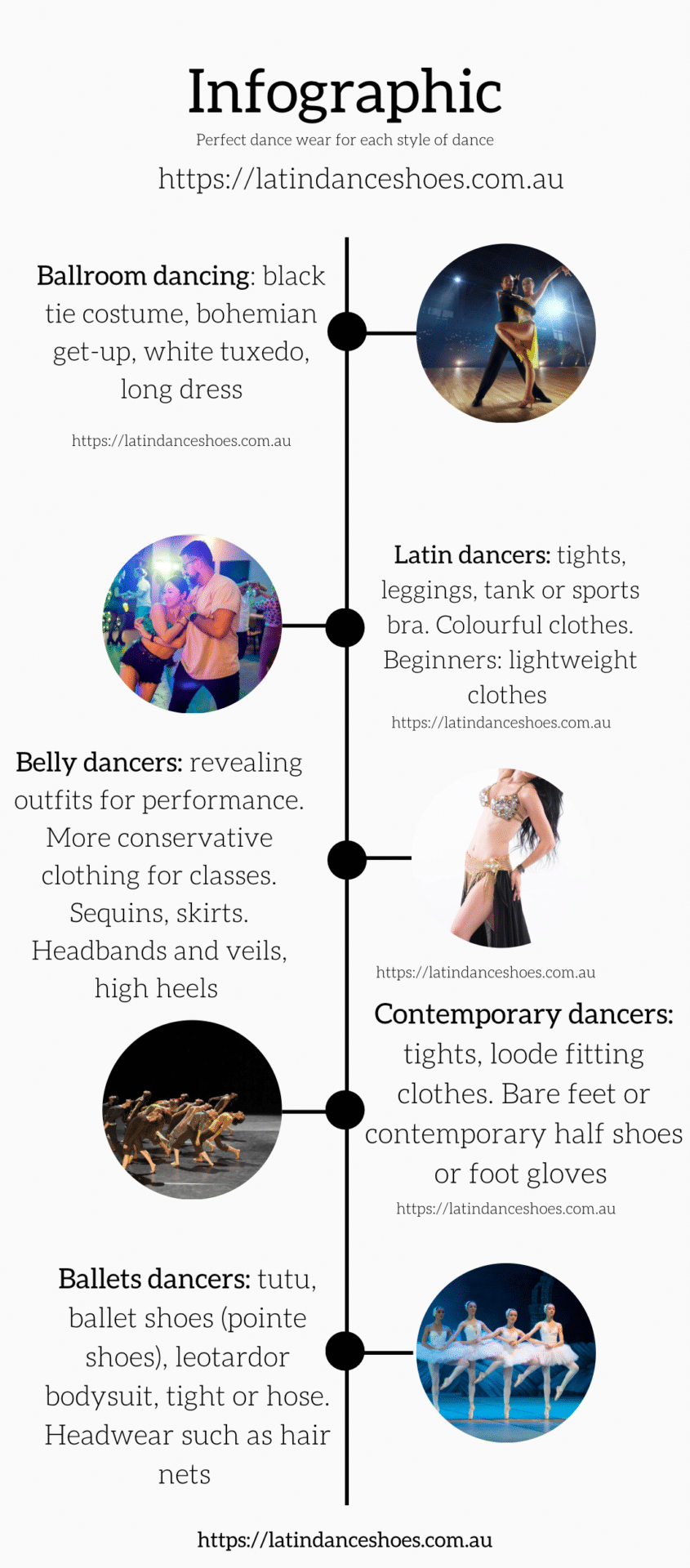 1- Ballroom Dancing dance wear for ballroom dancers
There's a lot of different ballroom dance costumes out there, and most dancers wear something that will best enhance their look and style. But what are the most popular ballroom dancer costumes?
Below is a list of the top 3 outfits worn by professional ballroom dancers:
1. Black tie costume. This classic outfit features a long black dress with a high neckline, often paired with formal shoes or pumps. It can be elegant or demure – it all depends on the dancer's personality and mood!
2. Bohemian get-up. A variation on the black tie costume, this ensemble typically consists of loose-fitting clothes such as jeans, tunics, skirts (even miniskirts!), and cardigans – anything to make movement easy!
3. White tuxedo/gown combo . This looks like an ideal wedding attire for many reasons… First off, white helps to highlight any color in your hair or makeup without being too flashy or attention grabbing; plus, it goes great with just about everything else you might choose to wear for your occasion! Secondarily (perhaps more importantly), wearing something other than black gives you some versatility when dancing – no two dances are ever going to be exactly alike! Finally…who doesn't love feeling like they're walking down the aisle at their own reception?!
Stay tune for our article regarding the 10 top outfit that ballroom dancers wear!
2- Latin Dancing: Salsa and Latin dance practice wear for latin dancers
Latin dancers wear a lot of different things, but the most common items are tights or leggings and a tank top or sports bra. Latin dancers also commonly wear high heels, because they add height and an extra level of sex appeal to their performances.
However, if you are a beginner avoid wearing tight clothes that will restrict movement and breathing. Instead, opt for clothes that are lightweight and flow freely when you dance. The goal is for you to feel comfortable first. We also recommend to purchase some high quality dance shoes to ensure that your feet are comfortable and protected from injury. Best dance shoes to choose
Salsa Dancing: The Basics You need to know
Latin dance wear
Unsure if you want to dance with heels for your salsa lesson? Try split sole black dance sneaker to attend latin dance classes and social events
What To Bring To Your First Dance Lesson?
The 9 Best Types of Dance Shoes for Women in 2022
The Best Line Dancing Shoes for Your Dancing Needs
Salsa dancing: The Basics You Need to Know
If you are looking for Latin dance classes and you are on the Gold Coast, join this guys Dance Classes Gold Coast. They offer a wide range of classes, and they range include wedding dance lessons too!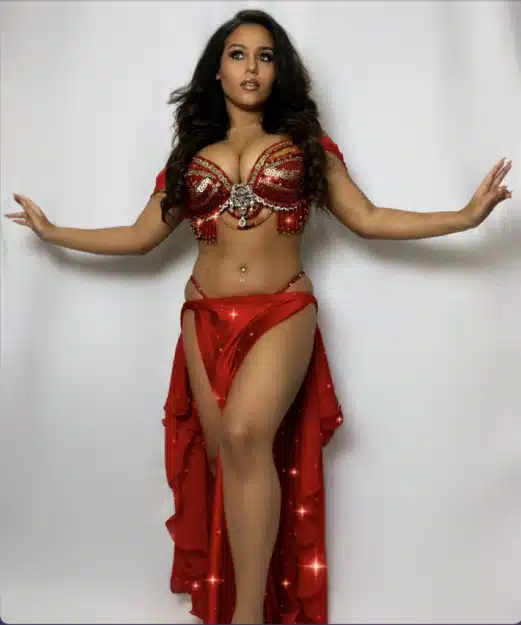 3- Belly dancing outfit for belly dancer
Belly dancers wear a variety of costumes and clothing to enhance their performance. Many belly dancers prefer to wear revealing outfits, while others choose more conservative clothing.
Some common items that belly dancers often wear include: body paint, sequins, skirts and tops that flare out around the waist or hips, headbands and veils (for males or females), and shoes with high heels or platforms.
As you can see, there is a lot of variation in what belly dancers typically wear. However, all of these clothes are designed to help the dancer look her best on stage! When you go in class, we would recommend you to wear tight outfit that would keep everything in place – and help you feel comfortable and more relax!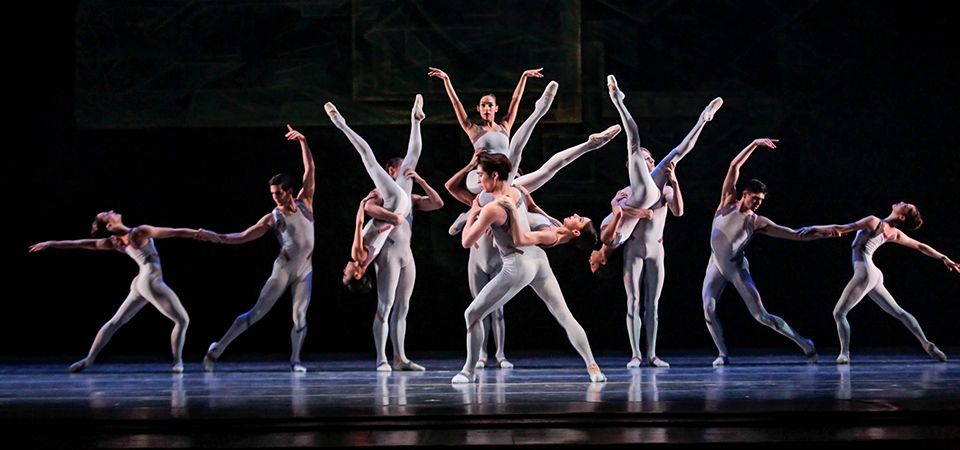 4- Contemporary dancewear Australia for contemporary dancer
It can be difficult to know what to wear when you go see a contemporary dancer performance. On one hand, these dancers are often performing in tight clothing that leaves little to the imagination. However, many people find this type of nudity uncomfortable or offensive. So, what should you do?
Firstly, consider what type of mood your outfit will set for the night. For example, if you are going to see a melancholy ballet performance, starring dark colours and somber music choices might be appropriate while bright colours might be more fitting for an upbeat dance piece featuring faster rhythms and bubbly songs.
Lastly – don't forget comfort! Contemporary dancers perform for hours at a time wearing tight , high heels , sparkles , etc., so make sure your clothes fit well and feel comfortable during long periods of standing still .
5- Dance wear for Ballet dancers
Ballet dancers wear tight, skivvies, and pointe shoes (also called ballet shoes).
When it comes to ballet, there are a few key pieces of clothing that every dancer needs. These include a leotard or bodysuit, tight or hose, and ballet shoes. Most dancers also wear wraps around their ankles and chest (sometimes called shawls), and headwear such as hair nets or balaclava masks.
Some dancers prefer more elaborate costumes than others – for example, some ballerinas wear skinsuits that cover their entire body! However, the most important thing is to make sure each dancer has uniformity in their attire so they can move as one unit onstage. Learn more about ballet and join Ballet art centre.
Tap dancers would wear tap dance shoes like the popular brand Bloch.
What type of dance wear can I found?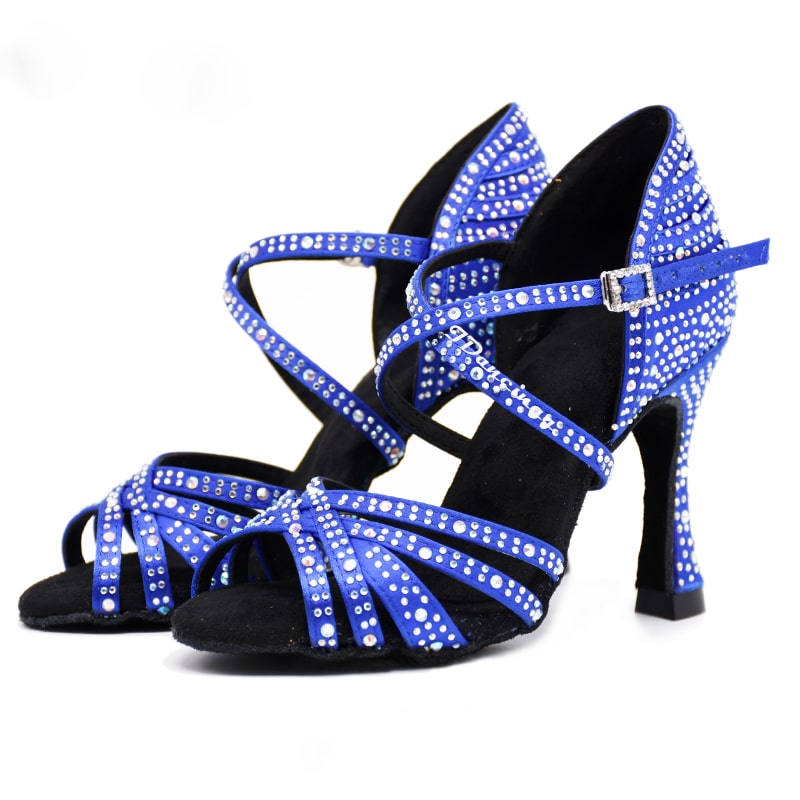 10 Best Dancing Shoes for dancers | Gold Coast Dance Store to buy dance wear!
Dancing can be a great way to destress and release energy. Doesn't matter how old you are, or if ages can be a problem! Ages is NOT a problem!. However, choosing the right dancewear can be tricky. That's why we've put together this list of the 10 best dancing shoes for women and inspirations dance wear. Whether you're a ballroom dancer, ballet dancer, or just want to dance around the house, these shoes will help you move and groove to your heart's content.
Our recommendation when buying dance shoes and dance wear
First and foremost, make sure you select shoes that fit comfortably and allow movement in all the right places. Next, consider buying shoes that are more special than your average pair of shoes. Pointe or ballroom dancing shoes are a great option for this. For staying warm, choose clothing that has insulation like leggings and thermal tops. Happy dancing!
Visit our shop or buy dance shoes online (as well as many dance wear clothes)
Introducing our collection. You will find at Latin dance shoes Australia the most comfortable and supportive latin and ballroom shoes! We offer a wide range of heels in our shop. Every heel can be customised (height and shape). Contact us if you need further informations. Our delivery is outstanding and we strive to give the best customer service! After pay will be available shortly! You can pay using Mastercard, visa, PayPal or even bitcoin!
Check out our collection:
Women's dance shoes collection
Women's dance boots collection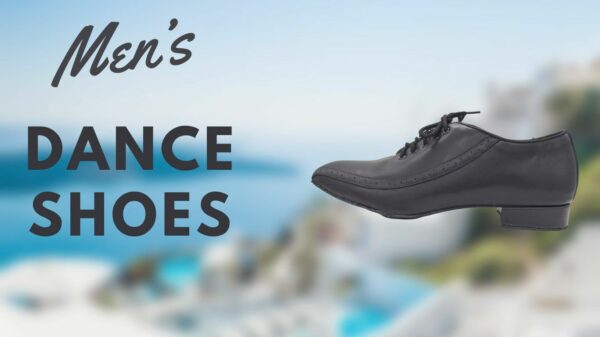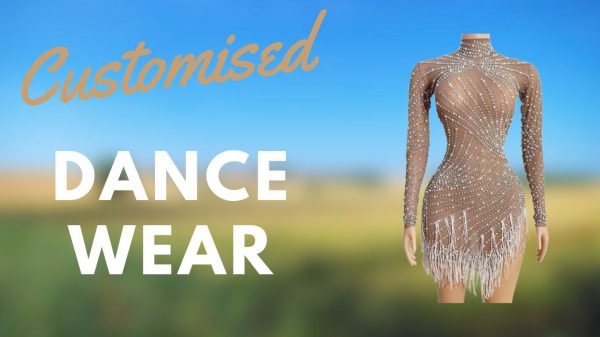 Shop the range – Dance Wear
Buy dance clothes online and Dance Wear
Dance wear Adelaide, dance wear Perth, dance wear Mackay. We offer the best dance solutions for women and girls dancewear. Check out also our dance clothes for sale!
Dance wear: Conclusion
Looking for the perfectly suitable dancewear to wear while dancing? Look no further! In this blog, we've outlined the different types of dancewear available, as well as the best shoes for each type of dance. Not sure how to put on and take off your shoes? No problem! We've included FAQs about suitable dancewear for women so that you can have all the information you need in one place. So, whether you're a beginner or a seasoned dancer, make sure to check out our blog for the perfect dancewear for you!
Frequently Asked Questions about Dance Wear For Women
What are the different types of dance?
There are many types of dance, including ballroom, salsa, latin, country swing and more. Each type of dance requires different shoes to be worn in order for the dancer to move with ease and accuracy. Some popular one include pointe shoes for ballet dancers, tango shoes for Argentine Tango dancers and Cuban Sole Shoes for Salsa dancers (check out our wide range and join our dancewear family today!)
Which type of dancing is best suited for which type of shoe?
For Ballroom and Latin dances, it is best to wear heels because they give you more height and add an air of elegance to your dance. For Contemporary, Jazz, and Soul Dancing, flats are the way to go as they provide better balance while dancing. When it comes to other types of dances such as Hip Hop, Ballet, or Tap (like the one made by Bloch), anything goes! However, some common shoe for these genres include pumps or sandals.
What brands make the best shoes for dance?
When it comes to choosing the perfect pair of dance shoes, you would want to go with a specialised dance store like ours! Because all we do is specialising in ballroom, ballet and latin dance shoes! However, for hip hop and street wear, going for the big brand is usually the way to go ! The most popular brands include Adidas, Nike, Converse, and Reebok. For tap dancing, we would probably go with Bloch.
How can I find the right size and style of shoe for my feet?
When it comes to finding the right size and style of shoe for your feet, it is important to measure them. We wrote an article here!
To do this, simply take a ruler and measure the size of your foot. Be aware that we usually have one foot bigger than the other! Measure the width of your feet as well as the length. Once you have your measurement, head towards our Heels size and shape guide. There you will find your answer. It's then time to choose the right style or type of shoe for your needs using the help above. As a word of advice, dance shoes need to be tight to support your feet while dancing.
Do I need to break in my new shoes before I start dancing?
You don't need to break in your new shoes before you start dancing. However, if the shoes are new and not yet broken in, they may give you a bit of pain when you first start . You can soften them up by wearing them around the house for a few days or walking on soft surfaces like pillows or blankets.
Do not wear your dance shoes outdoor!
Dance wear guide
How do I clean my dance shoes?
We recommend using brush to clean the sole every time after a dance practice or social. Do not clean your shoes with water. And make sure to air them out so dance shoes don't get smelly !
Dance wear guide
How do I stretch my dance shoes?
We wrote an article about How to stretch dance shoes here.
Related to dance wear
Dance wear guide
Dance wear guide
Dance Shoes & Dance Wear Gold Coast
Dance wear guide
Latin. Dance Boots Sydney Australia
Summer vibe – Latin Dance Shoes Brisbane
Dance wear guide