In this article, we will be talking about high heels dance shoes. What are they, what are the benefits of wearing high heels dancing shoes, the different types of heels associated to high heels dance shoes, and what are the best high heels dance shoes per dance style.
What are High Heel Dance Shoes?
High heel dance shoes are a type of footwear designed specifically for dancing. They are a type of dance shoes with a high heel, typically between 8 centimetres (3.15 inch heels) to 10 centimetres (close to 4 inch heels). Anything over 10 centimetres to 25 centimetres (close to 10 inch heels) is considered Very high heels. 
High heel dance shoes come in different forms and variations such as closed toe, peep toe, ankle strap heel, T bar heel, lace up heel. On top of the shoe variation, Heels also can come win different shapes. There is  3 main heel shape for very high heel dance shoes which are flared heels, stiletto heels, cone heels.
High heel dancing shoes come with a flexible suede sole. But it is possible to add a rubber sole for dancers who want to dance outdoor.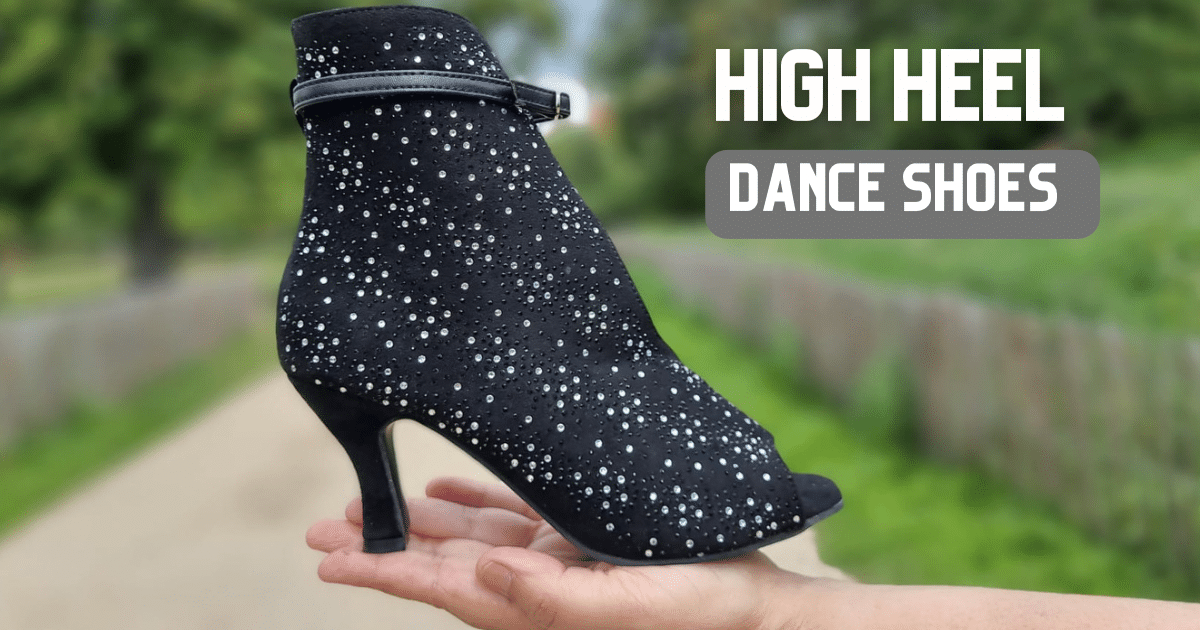 What are the benefits of wearing high heel dance shoes?
Wearing High heel dance shoes provides 6 major benefits for dancers.
Increased height and aesthetic appeal: The high heel help dancers to appear taller and more graceful. The raised heel in high heel dance shoes adds height, making your legs appear longer and more slender. This visual effect can make your dance movements appear more dynamic and eye-catching, especially in styles like Latin dancing where legwork plays a significant role.
Improved posture: Dancing in High heel shoes is a difficult exercise. Women and dancers will have to contract their ore strength. By doing so consistently for hours, dancers build muscle memory and habit for the body. Once they remove their dance heels, they tend to keep this posture and frame.The elevated heel forces you to stand up straight, aligning your spine, shoulders, and hips. This improved posture not only looks graceful but also enhances your overall dance performance.

Balance and Control: High heel dance shoes are designed to provide a stable base and better control over your movements. The added height can improve your balance, especially during spins, turns, and intricate footwork. With practice, dancers can use this heightened control to execute moves with precision and grace.

Increased confidence: Wearing high heel dance shoes can help dancers to feel more confident and powerful.

Glide and Spin Ease: The sole of high heel dance shoes is often crafted to facilitate smoother gliding and spinning on the dance floor. The reduced surface area compared to flat-soled shoes allows for greater ease of movement, making it easier to execute intricate steps and turns.

Foot Arch Support: Many high heel dance shoes are designed with arch support and cushioning, ensuring that your feet remain comfortable and well-supported during extended dance sessions. This is essential for preventing fatigue and foot strain, allowing you to dance for longer periods without discomfort.
Different types of High Heel Dancing Shoes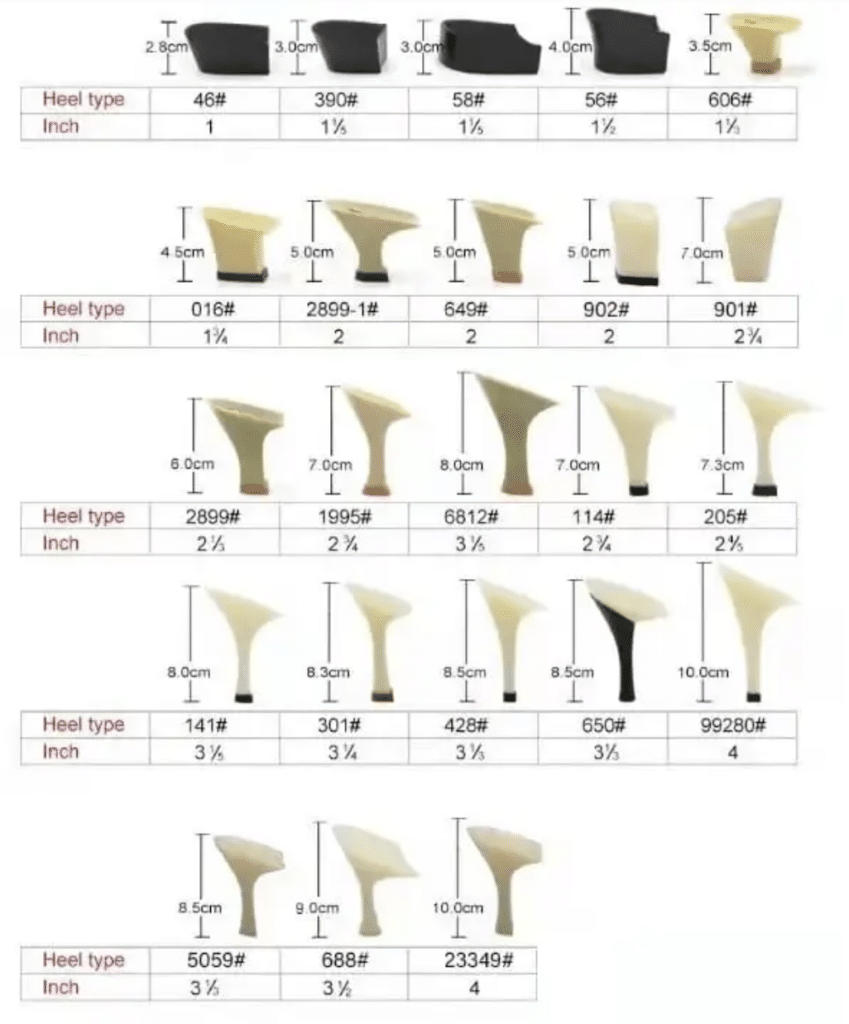 Here are the most popular High heel height and High heel shapes for latin dancers, ballroom dancers, heels dancers and beginners pole dancers.
Flare Heel. 3 inch flare heel, 3.3 flared heel, 4 inch flare heel (heels 68123, 205#, 5059#, 688#, 23349#)
Stiletto heels 3-4 inches. 3 inch stiletto heels, 3 inch stiletto heel, 3 1/2 inch stiletto heels, 3 inch black stiletto heels, 3 inch stiletto heel boots, 3.5 inch stiletto heels, 4 inch stiletto heels, 4.5 inch stiletto heels, Stiletto heels 4 inches, 4 inch heels stiletto, 4 int stiletto high heels. (heels 428#, 99280#)
Read our type of heels for dancers guide for further help on choosing the right heel for your dance. If you need further informations regarding the type of heel, we also wrote an article.
They also come in different colour variations. At Latin Dance shoes Australia you will find black stiletto heels 3 inch, gold stiletto heels 3 inch, 3 inch stiletto heels black, black stiletto 3 inch heels, black suede stiletto 3 inch heel, brown stiletto pumps 3 inch heel, thin stiletto heels 3 inch.
Best High shoes for dancing per dance style
Latin dancing 
Including Salsa dancing, Bachata dancing, Zouk, Kizomba, Merengue.
Beginner latin dancer: We would not recommend a high heel dance shoes. Instead opt for a Low heel between 2.5 to 6 centimetres
Beginner dancer use to walk in heels: 6 or 7 centimetres flare heels.
Intermediate Latin Dancer: Mid heel dance shoes and higher heels between 6 yo 8 centimetres.
Advanced dancers: High heel latin dance shoes between 8 to 10 centimetres height.
Ballroom Dancing
Lower heel dance shoes for stability. Advance ballroom dancers and tango dancers often dance with a high heel dance shoes between 8 centimetres to 10 centimetres.
High heel ballroom dance shoes are recommended for advanced dancers only.
Pole dancing
High heels pole dancing shoes are Recommended for  intermediate to advance dancers. 
Heel Dance
Shoes for high heels dance are between 3 to 4 inches high. 
Flamenco Dance
Flamenco shoes come in various heel heights, with some featuring high and slender heels for dramatic footwork, while others have lower heels for stability during passionate, rhythmic dancing
Burlesque Dance
Burlesque performers often choose high heels to exude glamour and sensuality during their acts. These heels can vary from mid-height to extremely high, depending on the desired aesthetic.
Street Dance and Hip Hop
In the street dance and hip-hop scene, dancers sometimes incorporate high heel dance shoes with varying heel heights to add a unique and unexpected element to their routines. They also use hidden heels.
How to choose the right high heel latin dance shoes?
Selecting the right high heel dance shoes is crucial for a comfortable and confident performance. 4 steps to take into considerations.
1. Dancing Style: Choose dancing shoes tailored to your dance style. Latin dancers may prefer high stilettos, while ballroom dancers opt for lower heels or a high flare heel.
2. Experience Level: Beginners should start with lower heels for stability, while advanced dancers can explore higher options.
3. Comfort: Look for cushioning and arch support to dance comfortably.
4. Budget: Set a budget and explore options within your price range.
By considering these factors, you'll find the perfect high heel dance shoes for your needs. Shop now dance shoes in Australia.
Tips for wearing high heel Ballroom dance shoes
Choose the right size. Your dance shoes should be snug but not too tight. If they are too tight, they will restrict your movement and cause pain. If they are too loose, they will slip and slide, making it difficult to dance.
Break in your shoes. New dance heels shoes can be uncomfortable, so it is important to break them in before you start dancing in them. You can do this by wearing them around the house for a few hours at a time.
Wear thick socks. Thick socks can help to cushion your feet and make the shoes more comfortable. Wear this socks at home to break in your dane shoes without bruising your feet.
Use a heel cushion. A heel cushion can help to reduce the pressure on your heels and prevent blisters.
Stretch your feet. Stretching your feet before and after dancing can help to prevent pain and injuries.
Take breaks. If you start to feel pain, take a break and rest your feet.
Don't overdo it. If you are new to wearing high heel dance shoes, start slowly and gradually increase the amount of time you wear them.
Here are some additional tips when buying dance heels in Australia.
Choose shoes with a wide toe box. This will give your toes more room to spread out and prevent cramps.
Look for shoes with good arch support. This will help to keep your feet from getting tired.
Avoid shoes with slippery soles. This could cause you to fall.
If you are going to be dancing on a hard surface, wear shoes with a thick sole also called rubber soles. This will help to protect your feet from impact and are made specifically for outdoor dancing.
Buy High Heels dance shoes and high heels dance boots
Most popular high heels dance shoes styles are the following one.
High heels stilettos
Who is high heels dance shoes not for?
High heels dance shoes are not recommended to beginners, beginners +, or intermediate dancers that are not used walking or dancing in heels or you might injured yourself. Safety and comfort should be your first priority if you feel that this description above applies to you and your dance level (or dance experience).
About Latin Dance Shoes Australia