Last Updated on November 27, 2023 by Clement
Guide to find the best Dance Shoes Heels size and Shape for your needs
Latin Dance Shoes Australia is Australia's industry leading dancing shoe company. Buy custom made dance shoes to meet your dance needs. Here is a full list of the different Dance Shoes Heels size and Shape we offer and give our best recommendation regarding which type of heel is best depending on your dance level and dance style.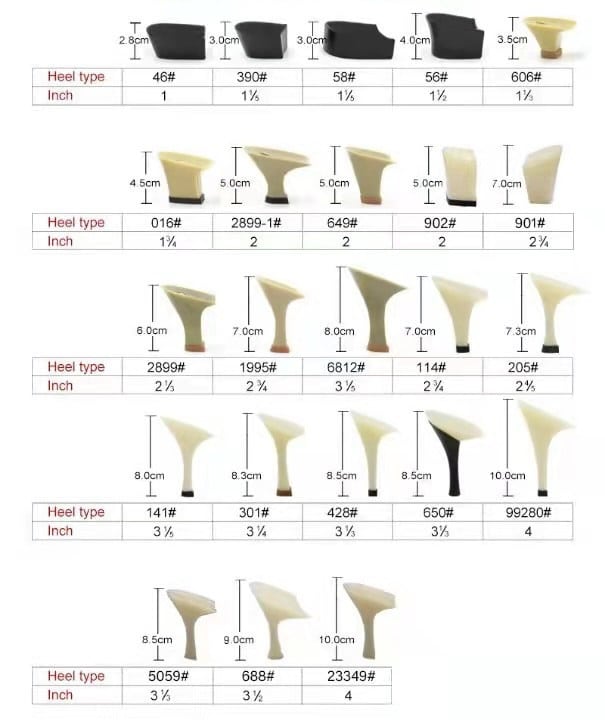 Dance Shoes Heels Size & heights
Here is a rule of thumb when buying dance shoes and deciding which heel height is best.
Absolute beginner: no heels or low heels shoes (between 0.5 to 2 inches)
Absolute beginners confident walking in heels for everyday use: Between 2 to 2 3/4 inches Flare heels
Intermediate to advances: any type of medium to high heels dance shoes
Dance shoes heels shapes
Heels shape play a major role regarding balance and comfort while dancing in heels.
Cuban heels, block heels: perfect for beginners
Flare Heels: good for beginners plus and dancers use to walk in heels
Stiletto heels: good dancers
Cuban Heels / Also called practice shoes:
Perfect for beginners dancers that are not confident with any heels. This will give you a lot more stability.
We offer 3.5cm (606#), 4.5cm (016#) and 5cm (649#)heels height.
Flared Heels
Perfect for beginners dancers that can manage any heels everyday.
We recommend 6 or 7cm for absolute beginners, 8cm for beginners +.
We offer 5cm (2899-1#), 6cm (2899#), 7cm (1995#), 8cm(6812#) heels height.
Slim flared heels
This is time to shine!
Show how much you can manage spinning and dancing while being on thinner heels!
Still flared heels, so it gives you more support than stiletto heels.
We offer  7,3cm (205#), 8cm(141#), 8.3cm(301#), 8.5cm(5059#), 9cm(688#) and 10cm(23349#) heels height.
Straight Stiletto heels
This is where the professional come up!
We offer 7cm(114#), 8.5cm(428#) and 10cm(99280#) heels height.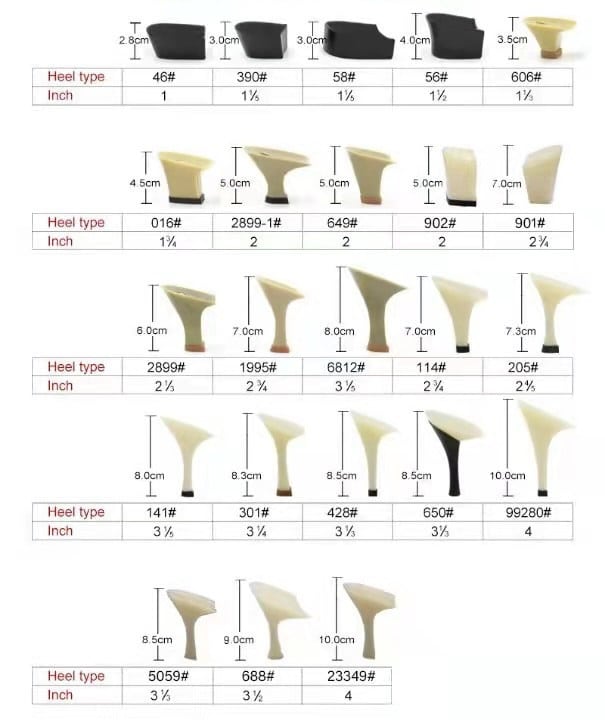 Heels for dancers Guide
If you need further explanation, you can check our heels for dancers page that will guide you through selecting the right heel dance shoes.
What are the 49 Types of Heels to wear ?
If you are lost with heels shapes, we wrote an article about the 49 different types of heels.
How can I find my dance shoes heels size?
We recommend you measuring your foot length in cm and checking the table bellow. We highly recommend checking BOTH foot, as we usually have one slightly longer than the other!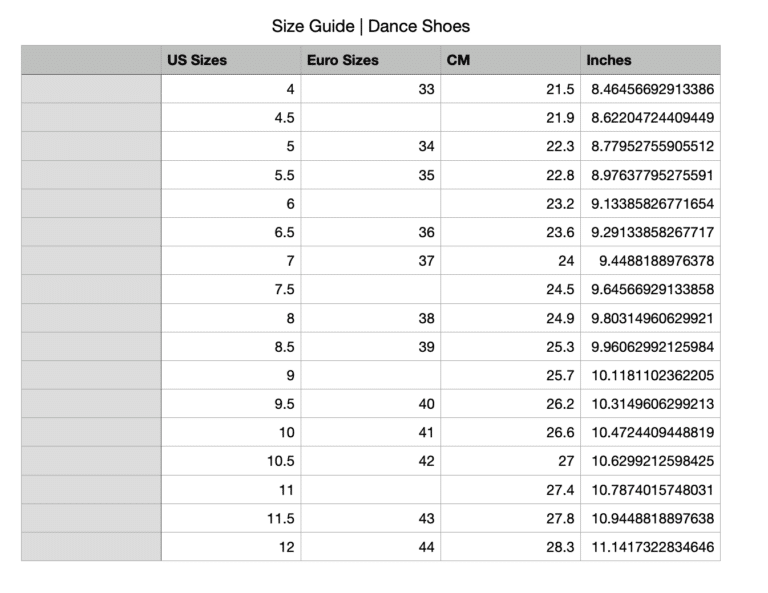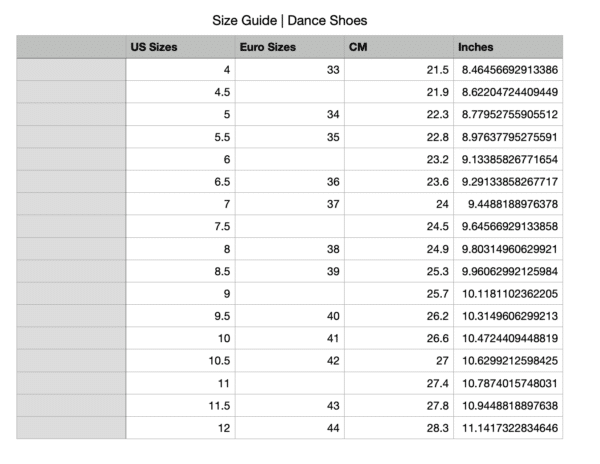 Dance shoes heels size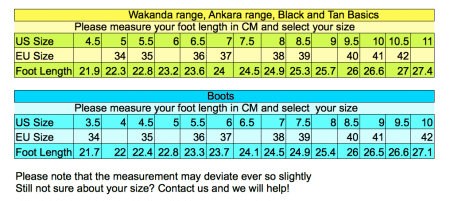 If you are unsure about your dance shoes heels size, Please contact us directly!
Custom dance shoes
Latin Dance Shoes Australia is the best dance shoe store in Australia. We sell custom dance shoes worldwide. We specialise in the following type of dance shoes.
Latin Dance Shoes
High heels for heels dance class
Flamenco Shoes
Order online your new dance heel today and get it delivered and shipped between 7 to 14 business days to your home and be ready to hit the dance floor in style.
Latin dance Shoes Australia
At Latin dance shoes australia, all of our heels and dance shoes can be customised. We offer cuban heels, slim heels and flared heels, hence the shape and height can be customised!
We also do offer a vegan option for our dance shoes and explanation can be found on our page "Vegan Dance Shoes".
Check out our payment methods & privacy policy at Latin Dance Shoes in Australia.
Contact us for any enquiries when buying your new women's dance heels shoes Australia
Contact Us or send us an email for any specific enquiries or questions about dance shoes heels size
or
WhatsApp +61436127631
If you want to pay in another currency while browsing our dance store, simply select the flag on the homepage you wish to purchase your dance heels from. You can select Australian Dollars (AUD), US dollars (USD) or euros (EUR).
Follow us on social media
Latin Dance Shoes Australia Facebook Page
Latin Dance Shoes australia Instagram Page