Salsa Shoes: The Latest Trend in Latin Shoes
When you're looking for shoes that will add a bit of spice to your look, there's nothing quite like salsa shoes! These shoes are all about shining on the dance floor – they're perfect for dance studio floor or social dancing parties!They will make you look cool and confident on the dance floor. In this blog post, we'll take a look at what salsa shoes are, what the benefits of wearing them are, and some of the latest trends in salsa shoes. So whether you're new to salsa shoes or a longtime fan, be sure to check it out!
What Are Salsa Shoes?
Salsa shoes are made from premium materials and come in a variety of unique designs that make them stand out.
There is different type of heels shape and heel height as well as design. Here are the main one:
Salsa shoes shape:
Cuban Heels shoes
Flared Heels shoes
Straight Stiletto Heels shoes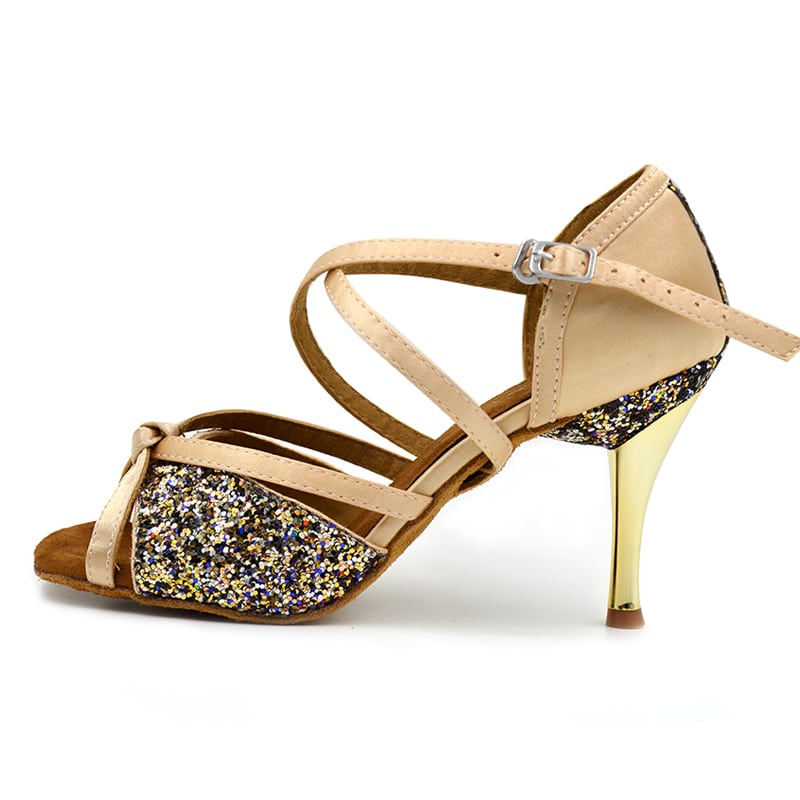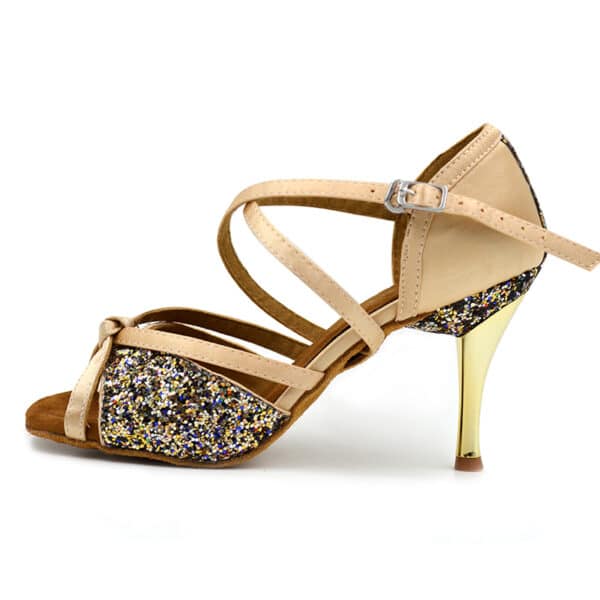 Salsa shoes Height:
From 4cm to 10.5cm height
Beginners that walk usually in heels wear a 7cm flared heel to start
Intermediate and advance dancers love higherh heels or straight stiletto high heels
Salsa Shoes Design:
T-bar are recommended for better support, while still giving you an elegant look!
Salsa shoes material:
PU leather and satin are the most common used. Satin gives your shoes a more high-end feel, while leather shoes are durable and look expensive.
We recommend Satin material with PU Leather combination.
Salsa Shoes Colors. There is so many! You can choose between tan, black, red, white or any other colours!
Whether you're looking for Latin shoes that can be dressed up or down, salsa shoes are the perfect choice. Plus, they're affordable and perfect for everyday wear. If you're interested in trying salsa shoes, contact us today!
What are the benefits of salsa shoes?
Wearing Salsa dance shoes will:
Improve your dance
Help you spin and turn better
Reduce the risk of knee injuries and plantar fasciitis
Make you look amazing
Are a lot more comfortable than regular heels
What are some of the latest trends in salsa shoes?
Lately, Ankle straps and Lace up shoes are the most popular salsa shoes and Latin Dance Shoes
Where can I buy salsa shoes?
With us! If you are reading this article, you are at the right place! We sell Latin dance Shoes and Ballroom Dance Shoes in Australia. We also understand what it is to have narrow feet. If that is your case, give us a phone call or contact us by email so we can help you choose the most appropriate one with better functionality.
Ballroom Dance Shoes In Australia. Latin dance Shoes and Ballroom Dance Shoes.
We aim to help dancers feeling confident and supported while on the dance floor. Our goal is to create the best dance products for women and help them feel better, lighter and more supported while dancing.
We offer a wide range of Latin dance shoes and Latin dance boots as well as many variations available for free! Purchase our salsa dancing shoes Online!
Indeed, You will be able to customise any of our Latin shoes following your personal preference and at no extra cost! We love the ability to customise and vary heels size and shape to make your dance shoes the best fit to you, while creating an unique product!
We also do have a vegan option for our Latin dance shoes. Contact us today to buy your dance shoes Australia! We proudly dispatch to all Australia and New Zealand. For further destinations, please contact us directly to organise shipping! We are Rated #1 Dance Shop for best salsa shoes, tango shoes, vegan dance shoes and dance shoes! We also sell Ballet, ceroc and Jive shoes.Free movement.
Shop our shoes Down the page or Click Here to Shop Now!
Conclusion
If you're looking for shoes that will take your dancing skills to the next level, then you need to check out salsa shoes! These shoes come with a unique design that makes dancing fun and easy. Plus, the latest trends in salsa shoes will have you looking stylish and on-trend. So where can you buy salsa shoes? You can find them online or in some of the top fashion stores in your city. So what are you waiting for? Start shopping for salsa shoes today and enjoy the benefits of your new shoes!